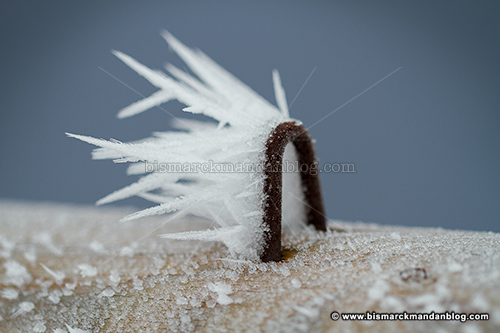 Yes, it's U-shaped, but to the best of my knowledge it's still a nail. This one is sticking out of the top of a horizontal fence post out by my property, and I'm glad it is. The frost (yes, Rime Ice) on this one is blasting its way eastward.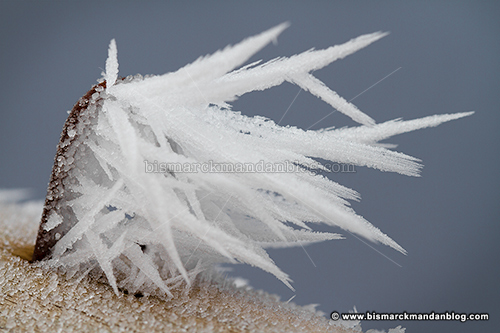 It looks like a blast, doesn't it? I mean, literally? Well, you ain't seen nothin' yet. This was on Day One: the Saturday when we first woke up to spikes of ice and frost attached to everything. Those tended to be more fine, needle-like structures attached to everything. But that was only the beginning.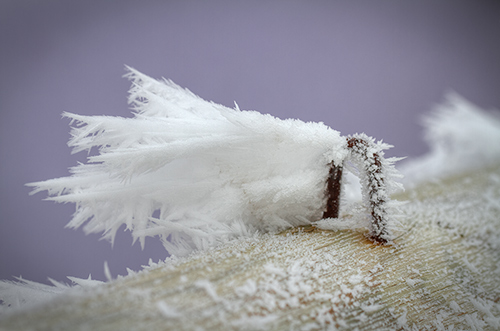 Fast forward a few days, and we had an entirely different type of ice develop out here. First, it seemed windier. Second, the temperature was different. And the way the ice and frost developed…well, that was entirely different as well.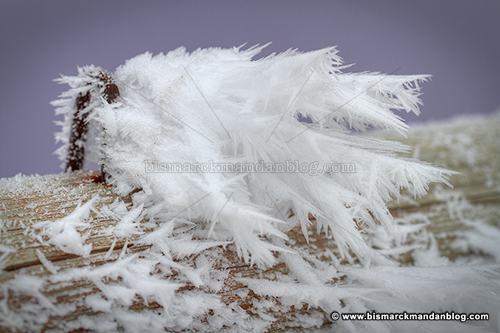 How would I even describe this? Feather? Sure. Explosive? Definitely. It was something I've never experienced before with my camera, and I was absolutely delighted.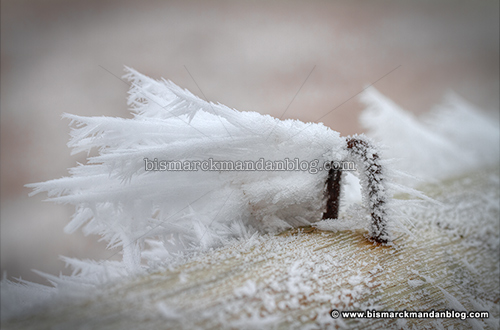 Here's one that's more natural. If you've paid close attention to my frost (Rime Ice) photos so far, you may have noticed the clean backgrounds on most of the shot. That's no accident. Because the background was typically white, there's no way I would have achieved the definition I wanted by just pointing my camera and clicking away. Or maybe something else was in the background which would act as a distraction. So how did I solve this problem? I improvised, and made a little experiment out of it.
I have a number of pieces of colored matte board from when I used to frame my own photo prints. I won some art show awards, and I even sold some prints (not enough for that new camera I've wanted for six years), but I gave up on that sort of thing long ago. Well, I cut down some various matte boards in a variety of colors and took them with, holding them in the background while I clicked away with a remote shutter release. I like how they turned out, especially considering the alternative. There's no way I could have captured the detail if I didn't have a contrasting background to work with. I hope it doesn't look artificial…but even if it does, in this case I think the detail is worth it.
I still have plenty more frost photos, and I hope to put them out in a themed fashion as well. See you soon!