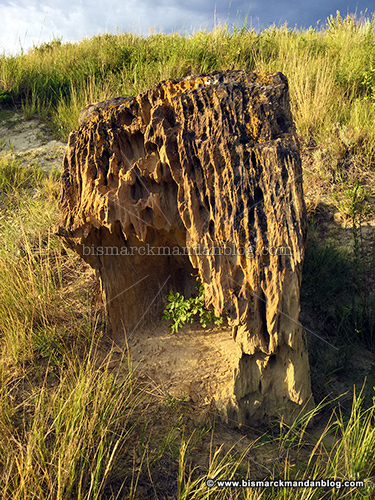 I found this stump in a pretty remote spot within the boundaries of the Theodore Roosevelt National Park one morning. I'd slept in the back of my truck, enjoying a hot summer night, and woke up just before the sun to head into the park for one of my favorite photos ever – one which had me slogging up the Little Missouri in bare feet to capture just the right angle at just the right time. Afterwards, I went poking around the park for a little while – shoes on, once I left the water – and discovered a few gems like this one. Then it was on to the Ice Caves, which was an adventure in itself.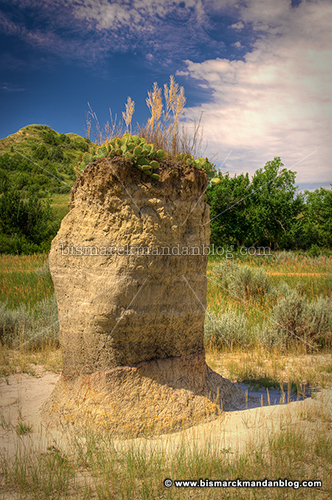 Along the way, in a spot where you'd have to be going there to get there, I found this little eroded column with a cactus adornment.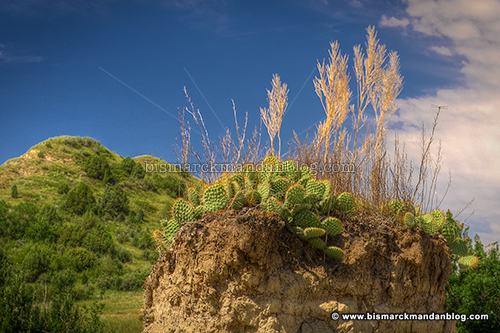 One thing about hardy plants like weeds and cacti, they sure are determined! This was actually almost as tall as I, and it was an unexpected discovery as I trekked across previously unexplored (by me) territory.
I did make it to the Ice Caves, and I hope to go back someday…and hopefully the trip there will be as unique as the destination.