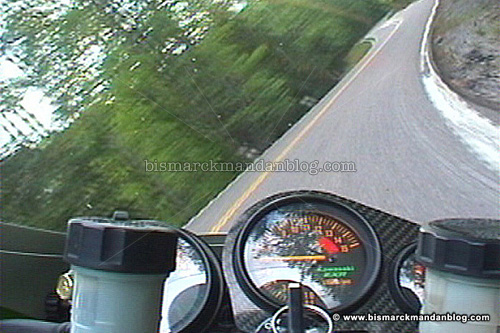 During a discussion with some other video graphic professionals, the subject of burnout recently came up. More specifically, how do we deal with burnout? My answers were simple: photography, my new hobby; writing again, which culminated in this blog; and triple-digit speeds while dragging knees on my motorcycles. This is a picture of the third; I fabricated an aluminum mount and bolted a video camera to one of my Kawasaki 750s to go blazing through the Smoky Mountains. Digging up this picture got me thinking how much I miss living in the mountains lately.
I'm a North Dakota native, but as a little kid I grew up deep in the Rocky Mountains. It's a whole different experience: the schools have ski teams, kids learn forest fire prevention in the classroom, field trips involve hiking and visiting ranger stations. I lived near a proving grounds for Smoke Jumpers, firefighters who literally parachute into the site of forest fires to begin combat. Once you've lived in the mountains, they're part of you for good.
One interesting point of view I got from moving back and forth from the Rockies to the North Dakota plains is that we have some beautiful, wide expanses here. When I lived in Big Sky, for example, I had the face of a mountain about 25 feet from my window. Moving back, I was thrilled to look out over the plains while cruising down I-94. But every time I make my way back west, I get the same thrill as those "purple mountain majesties" poke up above the fruited plain. We've got it pretty darn good in both places.
By the way, the video above was taken at Deals Gap, North Carolina. It's in the Smokies along the TN/NC border and is the most fabulous motorcycle road in the country. It's 11 miles long and boasts 318 corners! It's quite a workout. One does not want to fly off the road, either…it's an unfathomably long way down. Our internet motorcycle racers' club has annual gatherings there, which I haven't been able to attend in a while. That's okay, now I spend my time blazing around North Dakota with my camera gear strapped to my back. It's pretty inspiring to find all the neat places and scenery here in my own back yard, and report them to you here. That allows me to combine all three of my aforementioned "anti-burnout" activities into one great big one. I hope you enjoy the results.