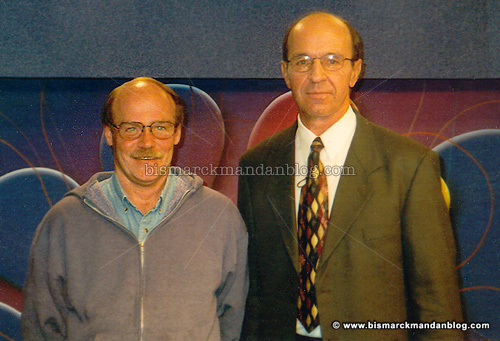 I very tearfully remembered today that it's been five years since the loss of Mike Holwegner, one of the best friends I ever had in the television business. Mike died of a heart attack on October 8th, 2002 on his way to work his typical 4:30am shift. Mike had been at KFYR-TV 29 years, almost 30. I worked with him for over ten of those, and couldn't think of anyone in the business who could ever make me laugh like he did.
I have truckloads of fond memories of Mike, as does everyone who got to work with him. For many years it was Mike, Al Gustin, and myself taking care of business at KFYR-TV through the early morning until the rest of the gang started to work their way in during the "normal" hours. Perhaps it was that 4:30am shift that gave Mike his unique sense of humor. I would substitute for him as director for the Country Morning and Noon Report shows, and I couldn't imagine working at 4:30 every morning! But then again, I was working overnights. That made us quite a pair.
Mike was like a dad to me as well as a friend. I could confide in him through some pretty crazy times, and I still miss him very dearly. Most of the true veterans of television in the Bismarck-Mandan area have since moved on, and many of them have stories of Mike Holwegner that still bring smiles to their faces.
Brenda Scholten and I put together a little good-bye to Mike that we aired during Country Morning in 2002, and I saved a copy. I'll put a Flash Video version of the video below. Although it's been five years, I miss him so badly and wish I could hear his jokes or funny made-up songs. Here's a tribute to Mike Holwegner.