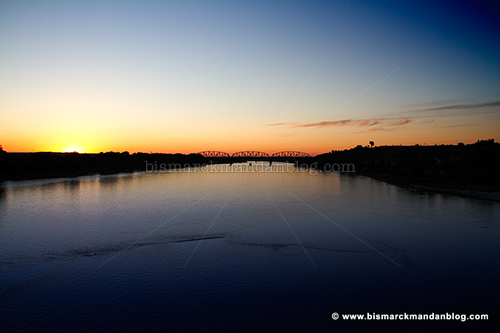 The new Liberty Memorial Bridge has one fatal design flaw: the pedestrian walkway is on the south side. There's very little to look at that way even on the best of days. The view to the north, however, is an entirely different story: the historic Northern Pacific railroad bridge, a wide expanse of open river, and of course the sunset. After my second consecutive 13+ hour work day I determined it was time to walk out on the bridge, on
the longest day of the year
, and see the sun set at its northernmost point. The sky even decided to cooperate, so it was a beautiful way to wrap up the day.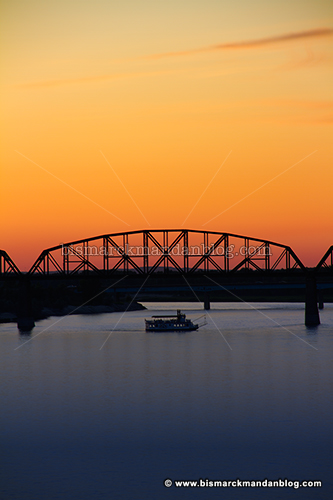 As I was brainstorming a way to frame my shot, I noticed the river boat pulling a
Crazy Ivan
underneath the NP bridge. It hovered there for a while before chugging upstream. It was a perfect example of the nice, leisurely feel I was enjoying for the evening. My long work week had come to a close, I was out with my camera on a gorgeous summer evening, and all was well. I also had Lost Lander playing on my iPod, augmenting the mood:
This video for Lost Lander by Stefan Nadelman is so visually stunning and absolutely perfect for this song, I just had to include it. Please give them three and a half minutes of your time and watch it. He calls it "the additive evolution of prime numbers" and it looks both organic and hypermathematical all at the same time.
Have a good weekend – get out and enjoy this wonderful world!