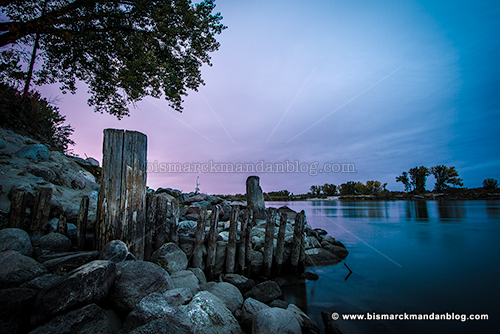 After work today I took off with my camera to walk much of the Lewis & Clark trail along the Missouri River in Mandan, starting from the northwest trailhead. While I took a lot of photos of the changing leaves and meandering dirt path, some of which I may post later, I really had a goal of taking a photo of the old wooden pilings near the trailhead itself. Someone was about to begin a senior session down there, so I decided to walk a few miles first. I'm glad I did.
I returned to the truck right around sunset, with only the last bits of pink and purple remaining in the western sky. I got into position and eyeballed the shot, unsure whether I'd actually get an angle I liked. I did, as you can see, but I hadn't brought my camera down to the rocky shore with me in case I didn't like what I saw. I dashed back up before the light went away from me, returned for a quick setup and series of shots trying different things with fill flash and long exposures, then it was time to come home for some homemade chili.
Due to the amount of time spent walking, I had plenty of opportunity to select two songs for tonight's Sunset Song of the Day. The first one is "Standing Outside a Broken Phone Booth With Money In My Hand" by the Primitive Radio Gods (iTunes link) and the second is "Black Chow" by Big Spider's Back (iTunes link). Both have a good tempo suitable for walking back to your truck at the end of a nice, long hike. They also set the mood for a relaxing purple-and-blue end to the evening, down by the river as it laps against the rocks.