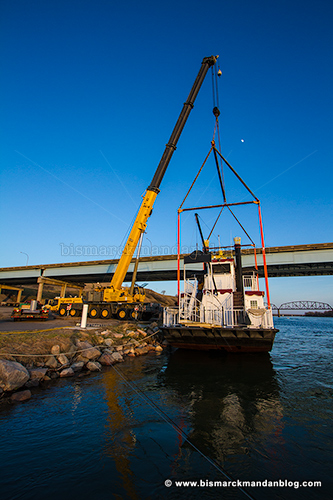 A while back I posted about the riverboat being hoisted into the Missouri River to begin its season, but I didn't tell the whole story.  You see, while all this coordinated action was meticulously taking place, there was another show going on in the river behind us.  Here's the video…the noise you hear is the crane crew and the image stabilizer on my telephoto lens.
I don't know what species of bird these are, but they're hilarious to watch.  It was cute to see them dart underwater in large groups.  They'd all go under for a little while, then gradually resurface a few at a time about ten meters or so from where they disappeared. There were at least two enormous clusters of them slowly making their way upstream, undeterred by all that was going on around them.
If you know what kind of bird, please leave a comment.  Enjoy!