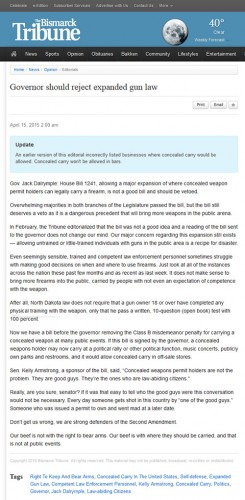 A couple of days ago the Bismarck Tribune ran an editorial against a bill restoring expanded rights for those of us who are licensed to carry concealed handguns – apparently without even reading the bill in question, by the way.  They make the dubious claim, "Don't get us wrong, we are strong defenders of the Second Amendment." while advocating against the rights of legal gun owners.
I'm not the least bit surprised that the birdcage liner newspaper of record here in Bismarck-Mandan would take such a position.  In fact, twenty-two years ago they pulled a stunt on par with the Fargo Forum's recent attempt to use its front page to "shame" legislators who crossed the homofascists (oops, I did it again) by following the will of their constituents and voting against SB2279.
In this article from December 19th, 1993, the Tribune decided to "out" legally licensed concealed weapons permit holders just like the Forum decided to "out" those legislators.  The article actually listed the name of every concealed weapon permit holder in Burleigh and Morton Counties!
The article has not appeared online as far as I know, until now as I post it.  This is from the Tribune's own computerized archive.  Sorry for the lack of formatting – apparently that's a luxury the old computer system couldn't afford.  I've stripped out the list of names.
Nearly 2,000 North Dakotans can legally carry a loaded, hidden handgun. But they're not law officers. These are the state's farmers, legislators, lawyers, service station attendants, salespeople and who, for protection and convenience, accessed the state's admittedly easy concealed weapon permit process. People like David O'Connell, a Democratic state senator from Lansford. ""I was threatened as a House member, a representative. I introduced a bill and I was told to withdraw it,'' he said. ""I had threats against me and my family.'' Since then, at the urging of law officers, a short-barreled .357 Magnum revolver travels with him on the 50,000 miles he logs yearly in District 6. Or Sen. Bob Stenehjem, R-Bismarck, who applied for convenience: His permit lets him take his Smith & Wesson .44 revolver to the field and range without attracting attention from law officers. ""I don't use it so I can walk around Kirkwood (Mall) with a pistol,'' he said. Or Todd Porter, who directs Metro-Area Ambulance Service and also carries a handgun in his vehicle for protection. Or 89-year-old Fred (last name redacted by Bismarck-Mandan Blog) of McClusky, who worked for years with the Sheridan County Sheriff's Department. Now, his permit is insurance. ""When I retired, the sheriff says, "Why don't you get a concealed weapon permit, in case sometime we might need you.' '' Or Paul (last name redacted by Bismarck-Mandan Blog), who said his license allows him to target shoot and keep a handgun in his work van without worrying about the sheriff. His wife and son also have a permit. Or 1,978 others: Men, women and families from Rhame to Pembina, Wahpeton to Williston. ""These people who have concealed weapons permits are law-abiding citizens,'' said Burleigh County Sheriff Bob Harvey. Generally, law officers don't worry about those who legally carry concealed weapons. ""I'm more concerned about the criminals who are carrying guns,'' said Morton County Chief Deputy Ken Helmer. ""It's the unknown out there that we worry about.'' Still, those responsible for issuing permits say requirements should be tightened. Now, 10 open-book test questions and seven shots from seven yards separate the legal from those who'd face a class A misdemeanor if caught hiding a handgun. ""It's not that hard. If you took your hunter safety test, I'm sure you took a tougher test,'' said Bismarck Police Chief Robert Matzke. ""The actual shooting should be more difficult.'' And Bill Broer, director of the state Bureau of Crimimal Investigation, would only say the test ""isn't that difficult.'' Only people convicted of felonies, some violent misdemeanors and those with confirmed mental problems are ineligible. In Bismarck, the sheriff and the police chief must clear the application - by conducting background checks - before it's forwarded to BCI. Local law officers, lacking discretionary powers, admit they've had to uncomfortably approve shady-looking applicants. ""I've had a few of them,'' Morton County Sheriff Leo Snider said. ""There's a lot of people I don't trust with a weapon.'' If they meet legal requirements, Matzke said, all he can do is ask hard questions. ""I question some reasons,'' he said. ""I ask if they really need it. But if they demand it, I really don't have the authority to deny it.'' The shooting test requires the applicant to fire 10 rounds in five minutes at a large target seven yards away, and hit a human silhouette at least seven times.But the test's aim, said a Bismarck firearms instructor, isn't to ensure marksmanship, just competence. ""If the state was looking for accuracy, it would be too easy,'' said Mike Stensrud. ''If the state was looking for proficiency - know how to load the gun, know how to shoot the gun - I think it's adequate.'' So far this year, 42 Bismarck residents have received concealed weapon permits. And recent changes in Washington affecting handguns have at least raised local interest in the permit process. ""There's been more questions,'' Matzke said. ""But nothing to show an increase.'' Applicants list their reason for applying on the application. ""Most people list self-protection, or they want to carry it out for target practice,'' Harvey said. ""And some people just feel better with it.'' But packing a gun for protection isn't always the safest course if a struggle erupts, Harvey said, because sometimes it's pointed in the wrong direction. ""Any person carrying a gun could cause their own harm, could cause their own death. A lot of people have been shot with their own gun.'' Gun owners and target shooters often apply for concealed weapons permits, Matzke said, even when they don't need it. In North Dakota, a handgun is usually legal as long as the handgun isn't tucked under a seat, shoved in a glove box or hidden from view under a coat.

The following fields overflowed:
PUBDATE = Sunday, December 19, 1993

Morton County residents permitted to carry concealed weapons: (List of names redacted by Bismarck-Mandan Blog)

(Source: Bureau of Criminal Investigation.)

The following fields overflowed:
PUBDATE = Sunday, December 19, 1993

Burleigh County residents permitted to carry concealed weapons: (List of names redacted by Bismarck-Mandan Blog)

(Source: Bureau of Criminal Investigation)
The following fields overflowed:
PUBDATE = Sunday, December 19, 1993
I used to think that the Tribune would probably prefer that North Dakotans forget that they ever pulled this childish little stunt, basically publishing a shopping list for gun thieves and possibly putting people's safety at risk (including mine)…but given another recent display of animosity toward North Dakotans lawfully carrying concealed weapons, after passing the required background checks, I'm inclined to believe that they aren't ashamed of it at all.
So tell me again how the Tribune staff are "strong defenders" of the Second Amendment?