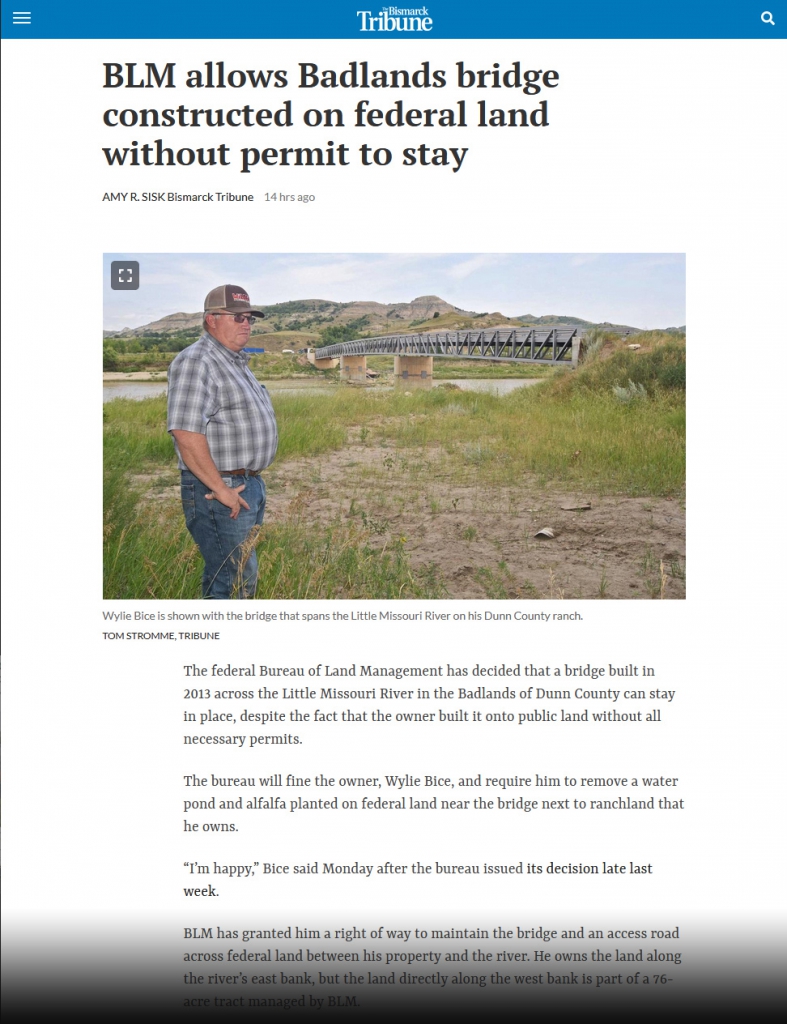 I woke up this morning to find this newly posted Bismarck Tribune article and began to take interest in the situation. I think I recall hearing something about this before, but the resolution is what stood out to me this time.
The article is a little light on a couple of key facts. First, while the description of the land "managed by the BLM" is accurate, it should state that the land consists of a couple of thin strips of land sandwiched directly between the two parcels owned by the private landowner. Not a huge deal, but it does paint a better picture.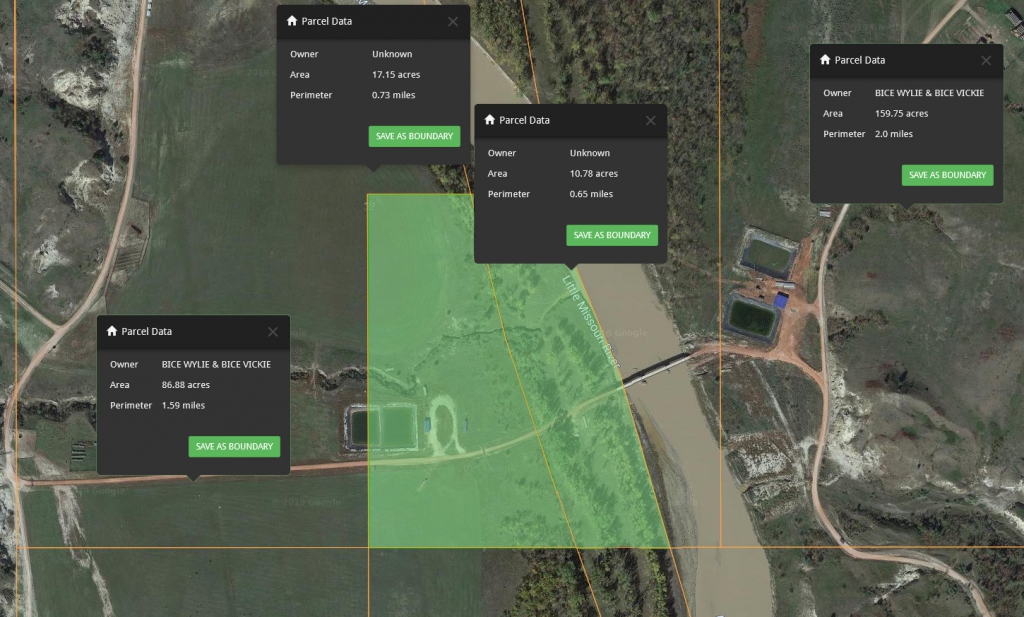 The green shaded area is actually two slices of land. Well, the access road and pond cross it. Fair enough. I think the arrangement described in the article is actually reasonable; the idea of locking horns with the BLM is not an experience one would normally desire, yet this outcome seems the most practical and even fair. And it seems prudent that the landowner could be given the option to purchase the land in the future.
So, naturally, someone is unhappy.
The article references "Blogger Jim Fuglie, a frequent visitor to the Badlands" as the one who made a big stink about this in the first place. He thinks that this decision is wrong, and that the landowner should be forced to remove this bridge and build a new one (certainly at great expense). It doesn't matter that this would – and the BLM agrees about this – create entirely new impacts to this and an additional area of the Little Missouri River and surrounding Badlands.
So that makes sense: here we have a project that had minimal impact, was done carefully, and is actually helping cut down on lots of traffic, and wouldn't even be an issue except for that little strip of land (the Army Corps of Engineers even granted a permit for the bridge). Riiiiiiiiiiight. Let's cause more impact, just so we could punish some sinister rich guy. Because, let's face it, who among us can afford to build his own bridge?
Naturally, the person who comes to such a brilliant conclusion is a prominent Democrat, the second fact that this article stays far from disclosing.
Jim Fuglie has been a director of the Dem-NPL party twice over the years, and he's a political blogger as far as I recall. If my buddy Rob Port had been quoted in this article, you can bet he'd have been described as "Political Blogger Rob Port" for his Say Anything blog. But Jim Fuglie is just described as some well-meaning wanderer, blogging about who-knows-what, who uncovered this huge injustice with the help of a pixel-peeping friend. I'm not buying it.
Naturally, since there are prominent Democrats involved, there's hypocrisy. A heaping helping of it.
Fuglie is quoted as saying, "There's really no reason anyone should be allowed to get away with breaking the law that flagrantly and not pay the price for it." Okay, I think we can all agree on that. And the landowner is being punished with triple rent and that sort of thing, as both sides work out the details of this infraction.
But what if the landowner was someone who, say, violated the border of the United States, entering our country illegally, also involving a river and federal law? Shouldn't that person be punished? Not according to the political party which the aggrieved Fuglie has represented for decades. In fact, I'm probably going to be called a Racist™ for even pointing this out. Nay, that person should be greeted with open arms, granted public benefits at the expense of American citizens, and instructed on how to vote Democrat.
This is no surprise, since the Democrat Party epitomizes the "Some are more equal than others" mantra from Orwell's famous book Animal Farm. And that's how their ideology works: there is one set of rules for them and the people they favor, and another set for the rest of you idiots who have either the audacity or idiocy to disagree with their enlightened views.
So my takeaway from this article is that we have an example of the federal government actually working with a landowner to resolve a unique issue. Meanwhile, a prominent Democrat operative gets to look like a quasi-hero by doing what liberals do, without his ideology or political interests being identified, and with total hypocrisy when it comes to the rule of law.
The first takeaway is unique and encouraging, while the other is business as usual.