Our family went to the Capitol A'Fair yesterday, perusing all the tents and talking with all the photographers. We couldn't have asked for a nicer day, with moderate temperatures and a mild breeze. Here are some of the things that jumped out at me during our lap and a half around the capitol grounds: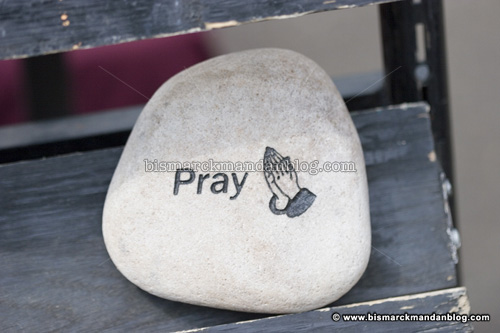 I wanna rock. This booth had a number of different inscriptions in a variety of stones…of course I found this one the most intriguing.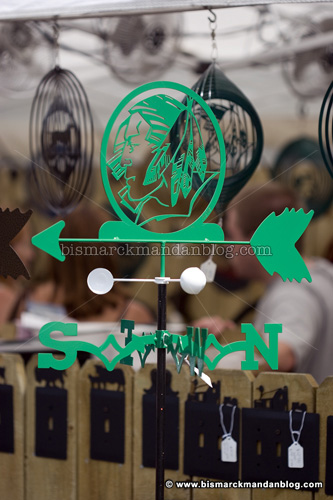 "Hostile and abusive" weather vane. Probably won't be seen atop any NCAA buildings in the near future, although it would be tempting to send them one.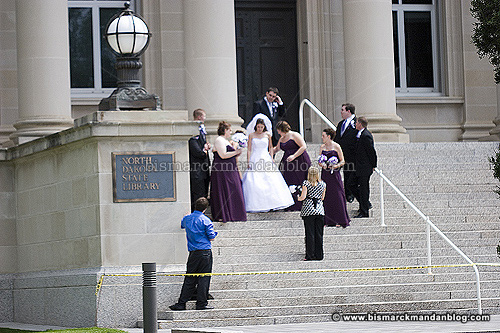 Of all the days to have your wedding photo taken at the capitol! I wonder how far this wedding party had to walk in their fancy duds…parking was limited due to the successful attendance.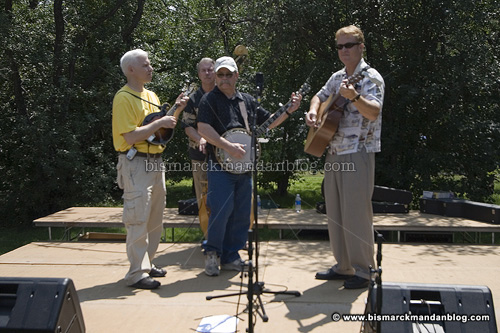 Missouri River Boys. dot com. Gospel and Bluegrass music for all to enjoy. They were also giving out fliers for the 2nd annual Bismarck Bluegrass Festival to be held at Sleepy Hollow Park on August 17th and 18th! I'm sure their website has more details.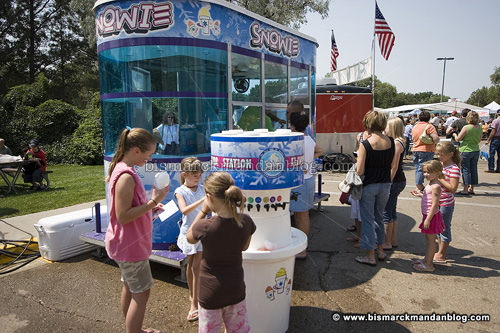 Flavor your own snow cone…YES! And they were huge, too. I made mine half green apple, half grape.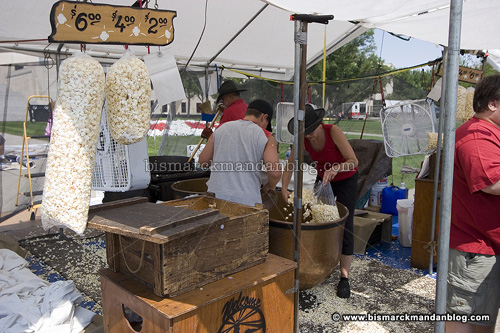 It wouldn't be anything near a Fair if it didn't have kettlecorn. I'm not a fan, but my wife brought home a big bag. Note all the fans they have hanging…I bet it's HOT next to those kettles!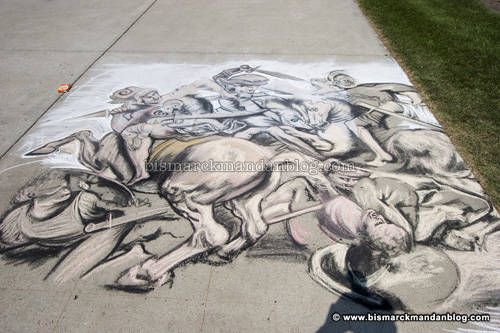 Sidewalk art. This was an amazingly intricate design, although the whole theme made me think of airbrushing on the side of a Dodge van with bubble windows back in the 1970s.
Well, that's a sample of what I saw at the Capitol A'Fair on Saturday. It still runs until 4pm Sunday, weather permitting. As I check the radar right now, that might be a stretch. Hopefully they are able to have a full day of fun today to follow up the great time yesterday.