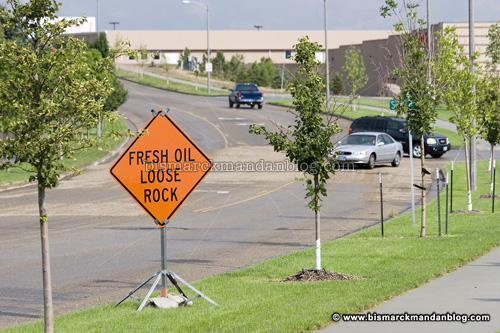 It's a motorcyclist's – or nice car owner's – least favorite time of year: chip seal season. While I still consider it a dubious approach toward street maintenance, Bismarck and Mandan insist on coating the streets with gravel, spread over an adhesive layer of tar, on all city roads. Doing so means a portion of the summer where we must dodge patches of loose gravel on the roadways, at least until they come by to sweep up the excess.
Last year I made a passioned plea to the Bismarck City Commission to re-examine their policies regarding chip seal application. In the 90's I had a nasty encounter with this stuff, spread SIX INCHES deep, in a corner that was not only unlit, but at the crest of a hill as well. I still bear nasty scars from that instance, and even some ground-down bones as well. I was leading a group of riders who all had passengers, but thankfully they saw me hit the gravel and were just that little bit more prepared for it. I was also the only one decked out in safety apparel, although falling on chip seal is like falling on a meat grinder! Thankfully, we had a nurse, a doctor, and a surgical technician among us that night…it was quite nasty.
Back to the point. After last year's City Commission meeting, I was approached by Keith Hunke. For those of you who don't know, he's from the Public Works department. He was interested in what I had to say and agreed with the Commissioners that a better job of signage could be done. I think he's kept his word; I've seen plenty of signs this year, and they look brand new. I also understand that it's not always possible to mark every patch of chip seal from every possible approach. With that in mind, I'm throwing Keith and the Commission a big thumbs-up for the effort to make our streets safer during this construction period.