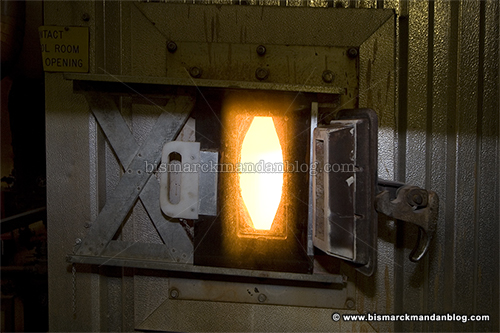 This is a view that few people get to see. The glowing red on the other side of that smoked glass is a vortex of 1,000 degrees Fahrenheit reaching over two hundred feet high. It burns powdered coal which has been cleaned and dried, making it a very efficient and clean source of power. And it's right here in North Dakota. You could put the state capitol building inside this boiler!
When you hear about "clean coal technology" you should note that North Dakota is pretty much the epicenter of innovation. At this particular power plant, by the way, over $200 million has been spent over the past thirty years on development of environmental technology. New processes have been brainstormed here that are of interest to power generation companies all over the world!
By the way, April 22nd is called "Earth Day" by some. This day was so named in order to fight global cooling back in 1970. That should tell you right there how much credibility the global cooling warming climate change movement has. Add to the mix the fact that it falls on Lenin's birthday and mounting evidence that the "environmentalism" movement is merely a home for displaced socialists, and it all starts to make sense. After all…no matter what manifestation of global weather crisis is used to incite panic, the ONLY purported solution has always been global socialism.
Back to the photo. The power coming from plants like this powers homes, businesses, hospitals, schools…you name it. It provides life-saving heat in the winter and cooling in the summer. It powers information technology, life support systems, manufacturing, and who knows what else. Yet there are those deranged individuals who wish to vilify the energy industry and treat such technical innovation with disdain. They're truly detached from reality and I welcome them to relocate to a third world country if they find nobility in primitive living.
Incidentally, the Bible talks of people who worship creation rather than the Creator in Romans chapter 1. This is nothing new. Actually, the people pushing this climate agenda wouldn't be pushing it at all if the solution wasn't global socialism. That's why I choose to have a Festivus of sorts, one that recognizes the value of the technology and innovation that makes this country great. I'm not the one who brainstormed this answer to Earth Day, but I am certainly on board. Happy Industrial Revolution Day and/or Romans Chapter 1 Day!