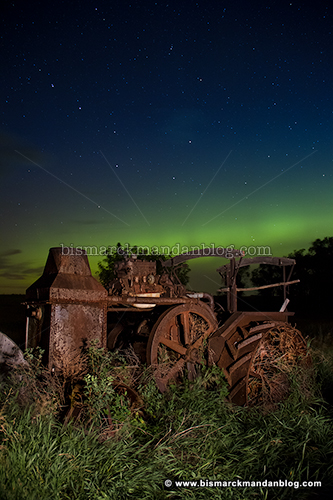 Sunday night I went out on a limb to stay out late and chase the auroras with some friends. While they went for the wide shots on a hill overlooking our favorite farmstead (which we visit with permission), I decided to brave the dark alone and head toward a pile of old equipment. I knew I wanted another crack at photographing this baby, a nearly hundred-year-old Rumely Oil Pull kerosene-driven tractor!
A curious and somewhat protective owl landed just above me on an old threshing machine as its young screeched in a nearby tree. I used my 6-D-cell "Louisville Slugger" style Maglite to do some "light painting" on the tractor once I was set up in place. I got the tractor, the Northern Lights, and the Big Dipper in the shot, lit to my liking after many attempts. Evenly lighting something in the dark by waving a flashlight at it isn't as easy as it may sound.
If you'd like to see what such a beast looked like in its heyday, check out this video of a restored 1921 model:
I love this machine and hope to photograph it again under different circumstances…thus the title of this post, also a reference to the name of one of my favorite 80's Athens bands.