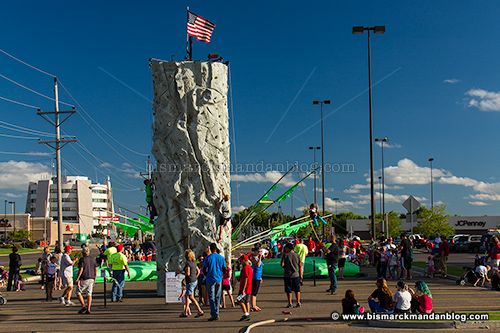 Last year, after missing the event entirely, I set a reminder in my phone to check on National Night Out sometime toward the end of July this year.  I wasn't disappointed.  In fact, after a little poking around I found that it's typically in the beginning of August.  Good to know.  As you can see, there were some bouncy, climby attractions for the kiddos.  But that's just the tip of the iceberg.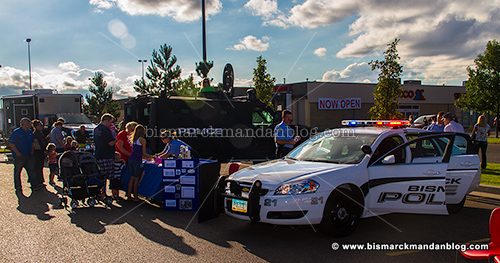 Perhaps the largest presence there was by the Bismarck Police Department.  They had a lot of cool equipment and Chief Donlin joined a large contingent of staff to answer questions.  More on the various things they brought to display in a bit.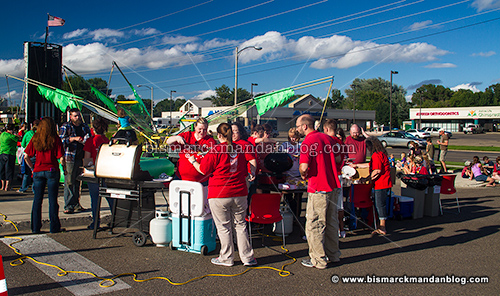 This event was sponsored in large part by Target.  They were serving burgers and hot dogs, but I was so busy talking to different officers and taking photos that I never did find time to grab one.  It was great of Target to show such hospitality; they had an army of people working the event to make sure that everyone had a good time.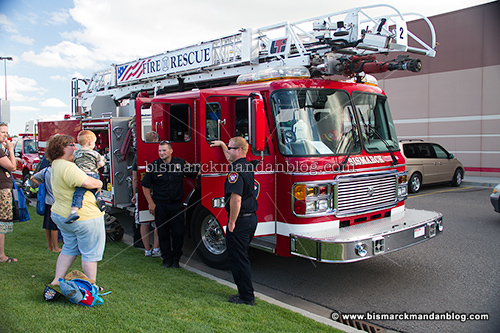 Of course, you've got to have big fire trucks as well.  These guys actually got sent out on a call or two during the course of the evening.  Such is the nature of the job.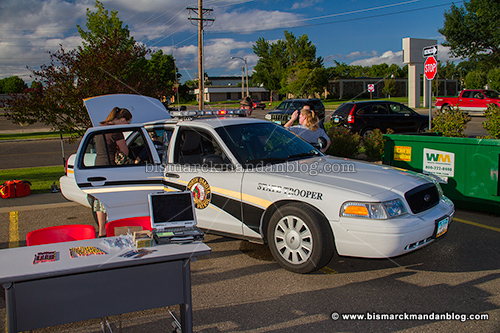 State Patrol.  I couldn't help but start humming a Junior Brown song at the sight of this car.  My littlest guy was quite enamored of this exhibit and the trooper's presentation.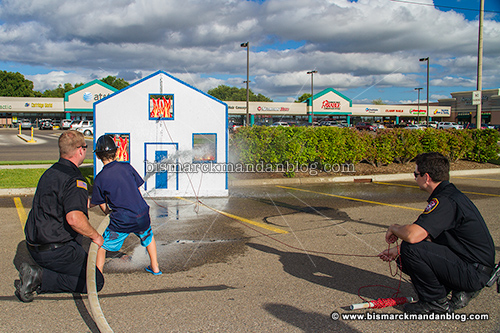 The kids were each given a fire helmet if they wanted one, including pink ones for the girls, and then allowed to take a crack at putting out a "fire".  My little guys came back to this multiple times.  The firemen manning this station were great, and it looked like they were having a blast along with the children.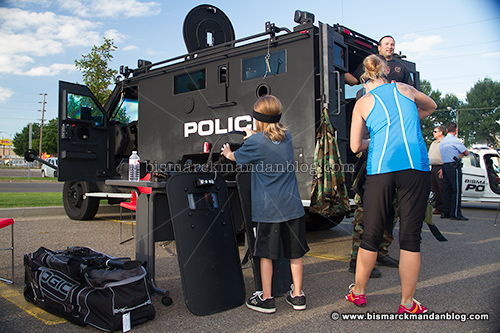 Tools of the trade.  From the M4-configuration rifle to the "RV", these guys have the tools to go along with the tactics.  One of the team was gracious enough to lift the children up through the top hatch to look around.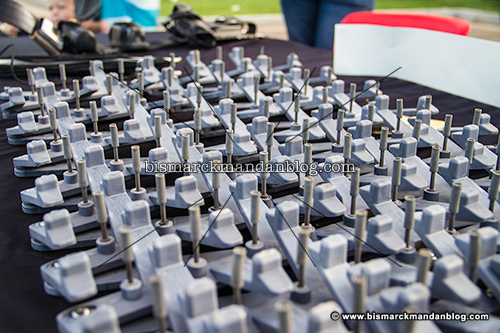 Burleigh County had spike strips on display.  I'm glad I have never had to be on the receiving end of a chunk of these!  I bet they get used more often than you'd think.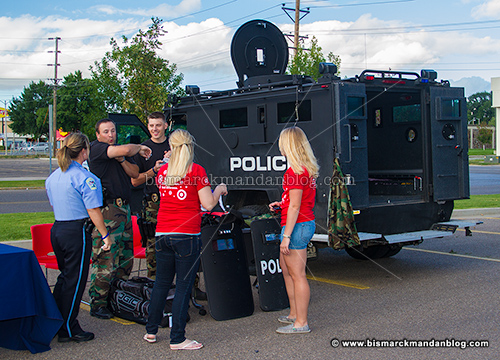 Early in the evening, a bunch of the Target girls came over to see if any of the SWAT guys wanted cute tattoos.  I even heard the word "cupcake" bounced around.  Although I doubt there were any pastries drawn, I think some of the team were good sports and went along with it.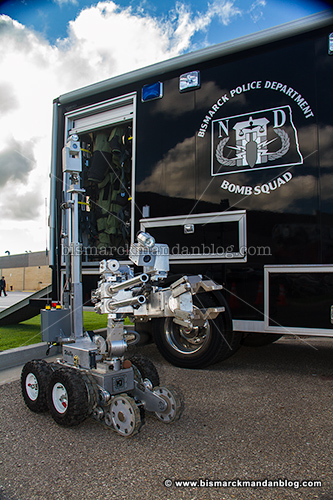 Here's the bomb squad robot.  Visitors could go up in the trailer and see how it's operated remotely, and other tools of the trade were on display as well.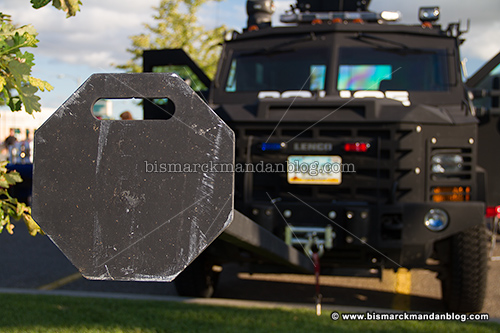 This battering ram really needs a smiley or a "KNOCK KNOCK" on it, a la Expendables.  I've seen and/or heard what this thing can do, and wouldn't want to be on the receiving end of it!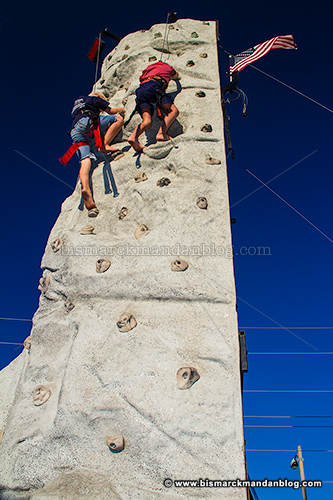 My little guys had a lot of fun on the other attractions, too.  While my youngest loved the bouncer more, my 6 year old scaled this climbing wall like a pro!  He climbed it four times, ringing the bell three of those.  I'm so proud.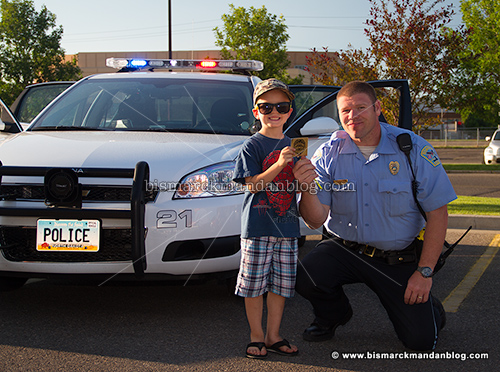 Officer Fuller was there, doing his part for community outreach and giving out sticker badges to hopeful Junior Officers.  He gets all the fun duties like being on the news and stuff. 🙂
If you missed this but wish you'd been there, don't worry: you should be able to set yourself a reminder for the beginning of August next year, and come out to meet the people who work rough hours dealing with challenging situations to keep our communities safe and orderly.  Also, get a burger before 8 o'clock rolls around and you realize you've been socializing and photographing the whole time and missed your chance!