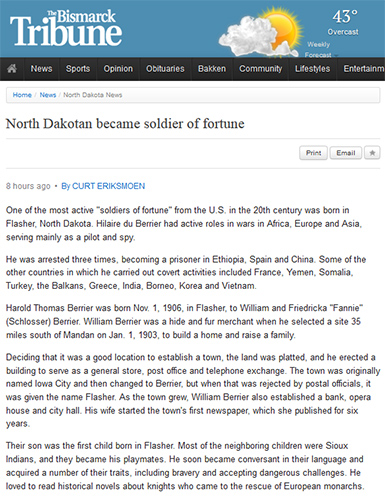 I love North Dakota history, and the truly fascinating stories of many North Dakotans remain untold or in danger of disappearing into total obscurity.  That's why I'm such a big fan of columns by Curt Eriksmoen for the Bismarck Tribune.  But today's column about Hilaire du Berrier treads on dangerous ground with its Hostile and Abusive™ content.

As you can read in the text of the above graphic, Curt makes a couple of racist, bigoted, hateful, hostile, and abusive comments about the neighboring Native American people:
He calls them Sioux;
He accuses them of bravery;
He asserts that they accepted dangerous challenges.
What, you say?  Why the offense?  Exactly.  These are the very same things that have been targeted and banished by the NCAA with regard to the UND Fighting Sioux logo and nickname.
I haven't been to a UND hockey game since the banishment of the logo and nickname, but before a video used to play prior to the games.  It described the brave heritage of the Sioux warriors and the admired characteristics that were inspiration for the UND Fighting Sioux moniker.  I can't forget the quote by Archie Fool Bear of the Standing Rock Sioux Tribe: "We went to a hockey game, and they talked about the courage and integrity of the Sioux people. We looked at each other like, 'Wow, we don't even honor our Sioux warriors or veterans like this on the reservation.' "
It's unfortunate that I have to drag Curt Eriksmoen into this, but it shows the hypocrisy of the NCAA and opponents of the Fighting Sioux name.  One could say that he obviously didn't mean anything offensive or controversial by his generalizations about the local Native American population, and I agree – but neither did the proponents of the UND Fighting Sioux.  For our beliefs we were branded as Racists™ and other typical epithets used by the "politically correct" enforcement goons.  Hopefully the same doesn't happen to Curt or the Bismarck Tribune.