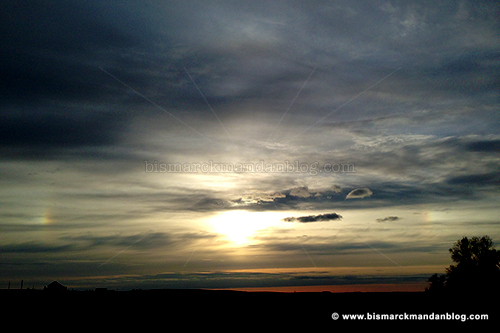 It would be an understatement to say that my life's gone through an upheaval in the past six months, medically and otherwise.  That's why you haven't seen a lot of new photos lately.  I've simply been unable to get out with my camera, a situation that's been just short of maddening.
Well, I was out on a friend's land last night, enjoying the vista of open prairie, and happened to notice that we almost had a couple of really nice sundogs from the developing sunset.  On the left of the sun you can see one forming, and even a hint of one on the right.  The conditions weren't quite right for really well-developed refractions, but it was still a cool sight…especially since it's been so long for me to even gaze at the sky.
In a way, today is one of those "first day of the rest of your life" kind of days.  I'm not out of the woods yet, but I'm also not facing some dire prognosis either.  I've got more medical stuff ahead of me, I've sold our house to adjust for now and downsized my life significantly, but I've got prayer and loving friends on my side.  So as one stage of my life sunsets, I look forward to what the Lord has in store for us as we claw our way back to a new "normal".  I'm sure it will include a lot of new photos to share at some point.