Our photo club took part in the Worldwide Photo Walk this past weekend, and it was a blast.  I didn't stay for the entire window of time because of other errands, but I did walk around downtown Bismarck for two hours with a couple of photo pals.  Each member of each local photo walk submits one photo to the group.  The group them forwards one photo on to the worldwide walk, and so on.  I got a few shots that I like with my brand new lens, and I need some feedback as to which I should submit before the deadline.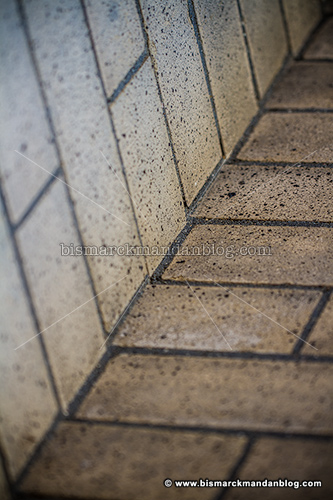 This was right at our starting point in front of the historic Belle Mehus Civic Auditorium.  I tried to go for sort of an optical illusion effect.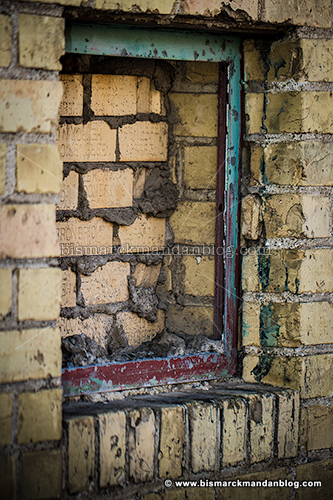 On the other end of downtown, I found this little nook in the back of the Anderson Building…a building I one day hope to own.  The frame gave it a nice splash of color.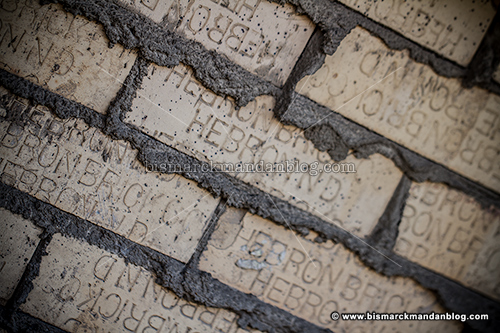 Made in North Dakota.  These are the bricks which sealed shut the window in the last photo.  Good ol' bricks and mortar, compliments of Hebron.
I did take photos of more than bricks, but I thought I'd share these first three together due to the similar subject matter.  The ones I really like will be posted next.  Shoot me an email or post a comment when you find your favorite!