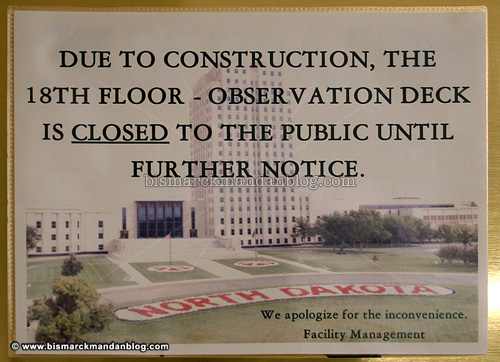 If you're one of those who, like me, enjoy the 18th floor of the North Dakota State Capitol, you're going to have to find something to replace it for a while. The observation floor is closed until further notice, likely for a year.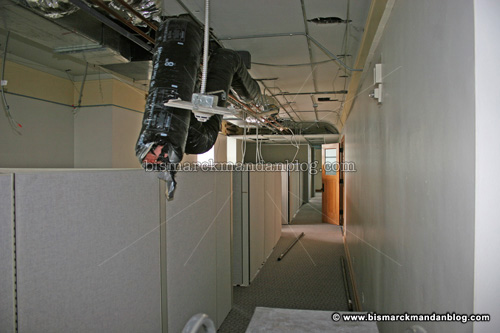 I was surprised to see these signs a few weeks ago, so what do ya do in such a situation? You ask someone "in the know." I'm not talking about someone at the info desk or any other Capitol employee. No, I'm referring to someone who's actually doing the job. So, I poked around upstairs where all the carpet, electrical, and cubicle work was going on. I ran into a nice guy who explained that, once they got the sprinkler system going, the 18th floor is going to be used for intermediate offices while the floors below it are being remodeled.
While the 17th floor is undergoing its updates, the employees from there will be on the 18th. Then they'll move back down a floor and the people from the 16th will move up two floors for a while. And, as far as this guy was aware, that was going to be the case for floors 15-17 only. I just hope that they get done soon so we can go up to the observation floor again as soon as possible.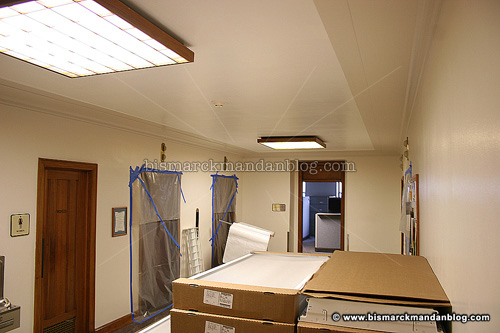 The floors below are stacked with construction materials already, at least they were when I took these pictures. I'm going to miss the ol' 18th floor for a while. It's fun to get good cloud pictures from there, look at the historic photos they have posted up there, or even just count the sunroofs in the parking lots below. It's also good exercise, as I take the stairs instead of the elevator.
If you were planning a trip to the top of the Capitol any time soon, don't bother! Go to the Heritage Center or the State Library instead. When it opens again, you'll see more pictures here.