That's right: I didn't say "July 4th" – it's Independence Day.  I was hoping to walk in the parade today, but my knee said otherwise.  So it was painkillers, Ace bandage, and sidelines.  But I did get to spend the time with my oldest boy and some friends in town from Idaho, so that's a plus.  Here are some photos of things I found interesting: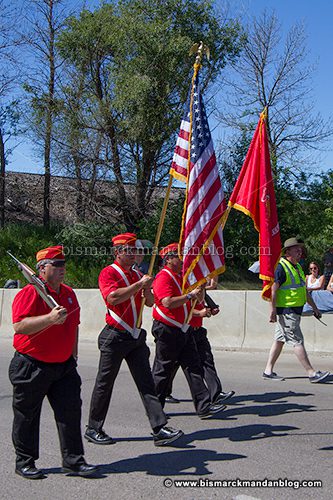 The colors.  It was nice to see people rise and salute the flag, hands over their hearts, without anyone having to tell them.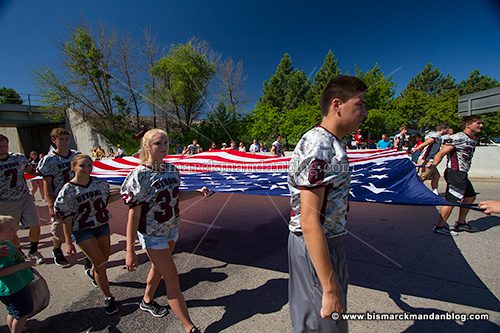 Bismarck High School football carrying Old Glory.  The parade's in Mandan, but we're one big happy Bis-Man community.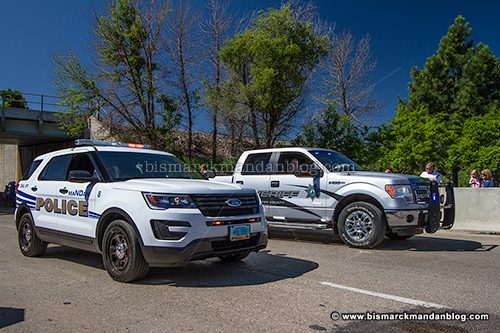 Serving and Protecting.  Morton County is going back to silver vehicles again, which is too bad – I like the way their white and blue ones look.  Especially the reflective blue stripe.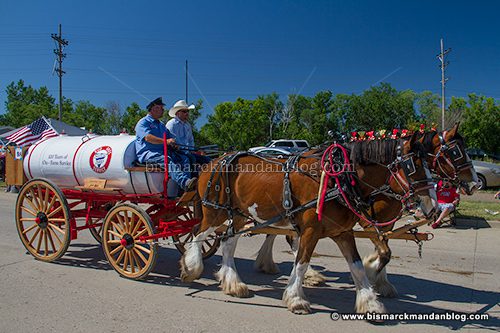 Since the liberals are fighting pipelines and now oil by train, this is how Bakken crude is going to make it to market.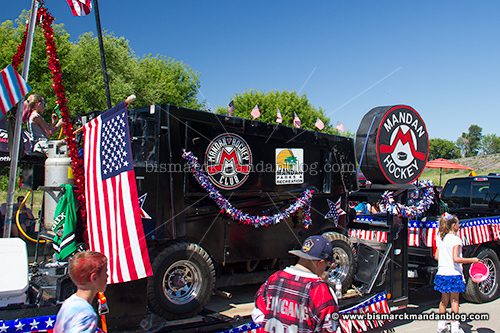 Because it's in North Dakota, the parade requires a Zamboni.  The folks accompanying this parade entry were on roller blades.  Cool, but probably spooky if one gets horse poo on those wheels.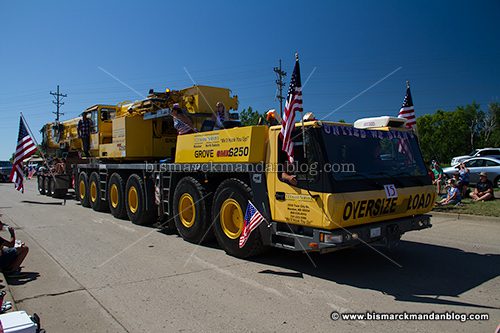 I can't see this without thinking about this song by They Might Be Giants.  It's a beast like this which helped assemble that giant weather vane construction crane at St. Alexius.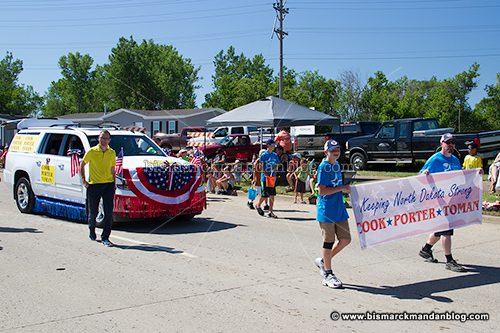 My friend and karate training buddy Nathan Toman, who I believe is running for reelection to represent Morton County.  Please give him your vote.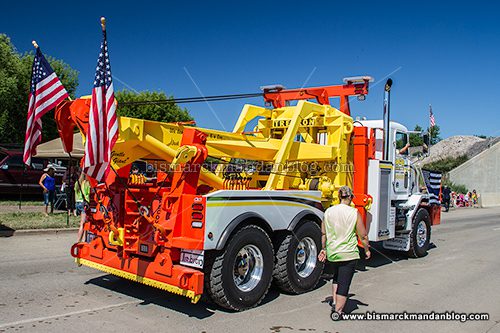 One of the most colorful entries every year from ACE towing.  I did happen to notice something on the side of this tow truck I hadn't seen before, though: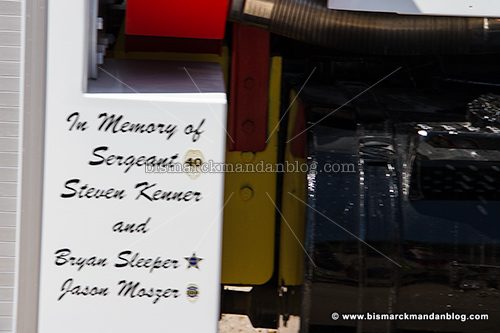 A little tribute to the law enforcement officers we lost a few years back.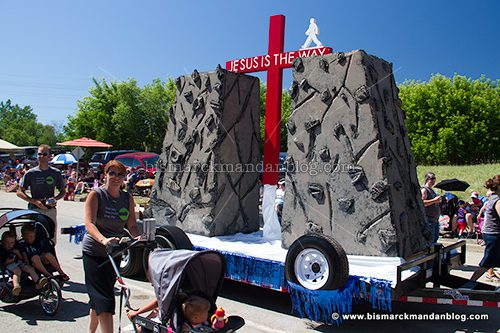 There's only one way to heaven, and that's through being born again by faith in the Lord Jesus Christ.  Good to see a church proclaiming it!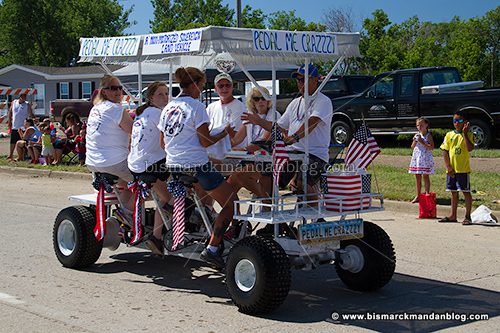 This was one of the coolest entries I saw: pedal powered!  Plenty of people shared the responsibility of propulsion duty.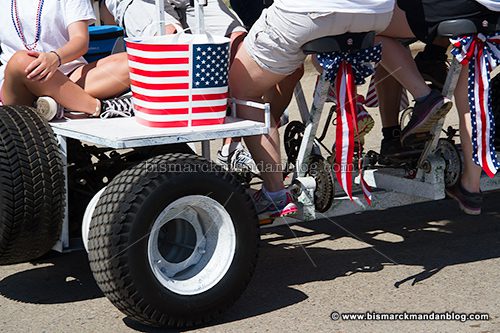 The pedals turned a shaft which went to a gearbox and turned the rear wheels.  I never did see how the front wheels steer, though.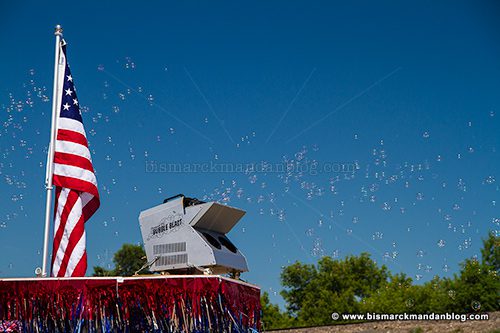 Any event which has a bubble machine is a fun time in my book.  This float actually had two, but it was the other components of the entry that caught our eye: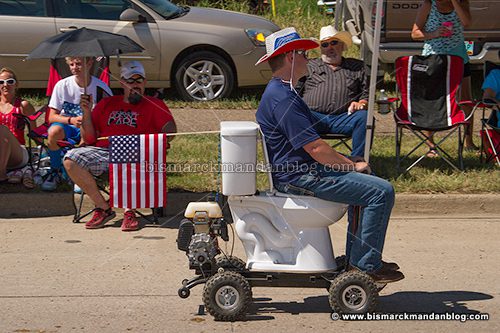 I'm going to resist any puns here.  This looks like it was a lot of fun to drive.  Note the wheelie bar.  I never saw that part put to use.  But that's not all…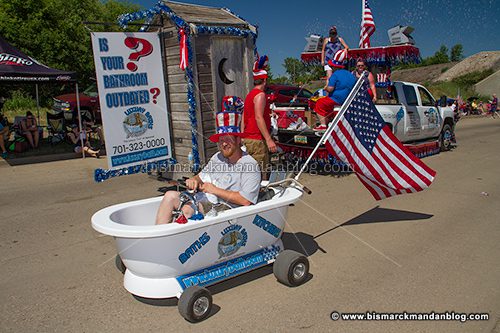 Rub a dub dub!  This tub gizmo, along with the motorized toilet and outhouse trailer show a commitment to putting on a good display for this year's parade.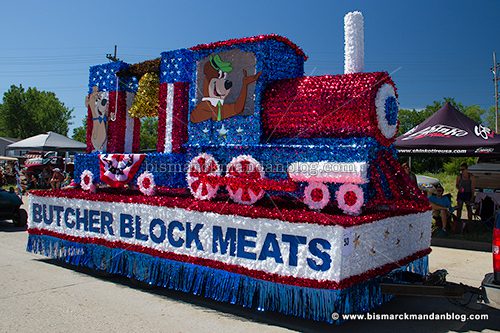 One participant to keep an eye on every year is Butcher Block Meats.  They always do what I wish more Mandan parade entries would do: make an actual FLOAT.  They always motorize something, too – and this was no exception:
It's good to see they wanted to keep up the creativity this year.  Now I've got to show my kids some Yogi and Boo-Boo cartoons – I really haven't shown them much from the Hanna-Barbera catalog.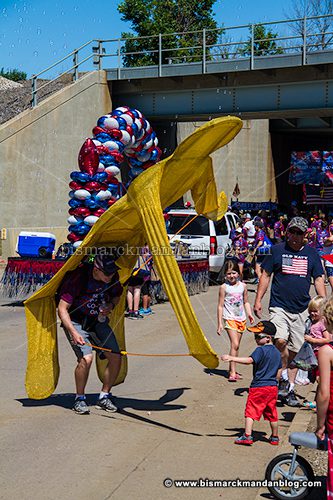 Here's one of the Touchstone Energy logo folks out representin'.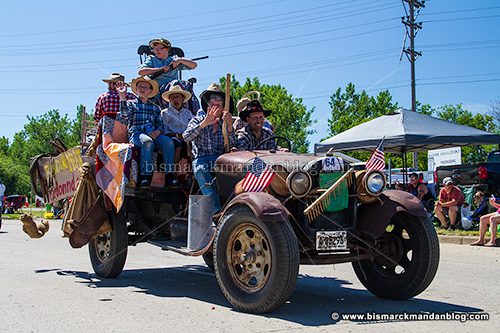 And finally, the Bowdon Meats folks decided to do a little Beverly Hillbillies thing.  Although they're not necessarily in a part of North Dakota where the ground is "a-bubblin' crude".
At this point the heat was getting to my little guy, even though we had shade nearby for an occasional respite, so I honored his wishes and packed up for home.  Looking down the line I could see that the next several entries were mostly vehicles, not actual floats.  Although I have no doubt there were some occasional gems in there, nothing within view caught my eye, so it was easy to pry myself away.  In future parades it would be cool to see more bona fide floats of clever design rather than vehicles with logos plastered on them.  But for the time we spent today, the photos prove that we saw plenty of cool stuff on parade for Independence Day.