I bought a new truck a few weeks ago.  Well, new to me – I don't have the money to buy a brand new one, and if I did I still would hate to take that depreciation hit the minute I drive it off the lot, so I always buy cars at least a year old.  Anyway, it's the most fun four-wheeled vehicle I've ever owned, and to prove it I took a 950 mile weekend photo jaunt – Thursday and Friday on my own, and Saturday on a roundabout way to pick up my kids from Bible camp.
After roaming all the way to the South Dakota border (and past it by several feet before dipping back into Best Dakota), I rolled into Medora later than I'd hoped.  It was at least 10:30 local time, and I didn't feel like setting up a tent only to take it down a few hours later.  My plan was to wake up before sunrise and enter the South Unit of the national park, so the best option seemed to be just sleeping in the truck.  I had already folded the back seats down, so I stacked all my gear on one side, inflated my air mattress on the other (I'd reserved a campsite with electricity), plugged in a cheap little fan I'd bought at Walmart in Dickinson to combat the heat and humidity, and dozed off.
Not only am I pleased to report that I slept like a baby in the new ride, but I also woke up before sunrise without the aid of an alarm.  I let the air out of the mattress, hopped into the front, and entered the park just in time for the sun to come up.  I hiked down to the Little Missouri and got this: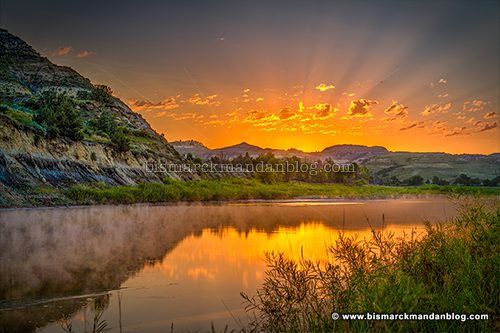 Steam on the water, rays streaming from the sun, and loads of color all around.  I couldn't have started the day better.  Didn't even have too many mosquitoes at that time of the morning, either!
I made the park loop, but nothing really caught my eye – except some elk you'll see another time – so it was time to head back to the campground for a shower, into town for some bacon and eggs, then off to roam the North and South Units and the National Grasslands in between.  I've been tied up with multiple gigs lately that have involved 12+ hour days, so I haven't sorted through them all yet…but I have loads of photos to share as time allows.