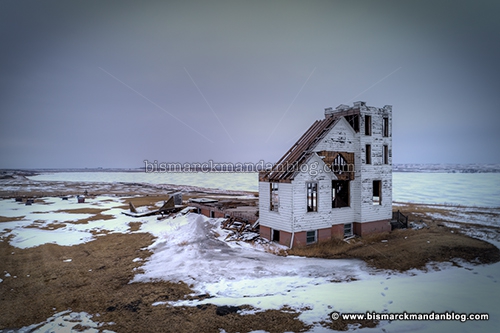 A friend of mine from Jamestown stopped in my studio a couple of weeks ago and told me about a really neat old church he'd passed on a road trip for work.  I didn't know there was a church where he described it, and none of my resources showed it there, so I had to go check it out last weekend.  Here's what's left of it: Berlin Baptist Church.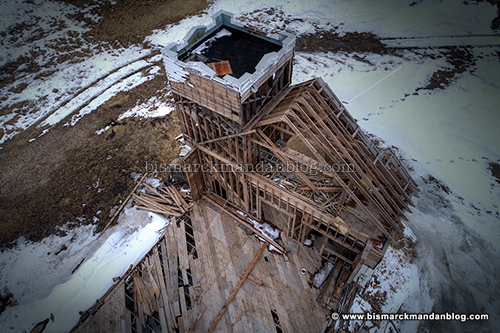 My urgency was because, once we located the spot on Google Earth, I could tell that the roof had been stripped and all the rafters were visible.  It wasn't the kind of random thing that weather or time would do; this church was being dismantled.  To be honest, I didn't even expect it to still be here.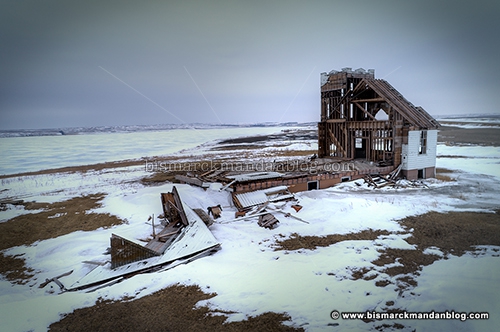 It looks to me like someone just plain ran out of time last year, and had to stop working on the structure.  The foundation and its windows are intact.  The floor is mostly intact as well.  The roof and walls have been removed up to the front portion of the church, where the balcony and steeple remain…for now.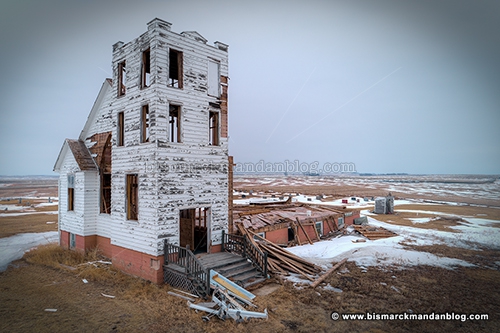 This was an amazing building…and wow, what a spot!  The cemetery is on the left of this photo, in the background to the north.  To the south is a large frozen lake.  I can only imagine what this place was like in its heyday.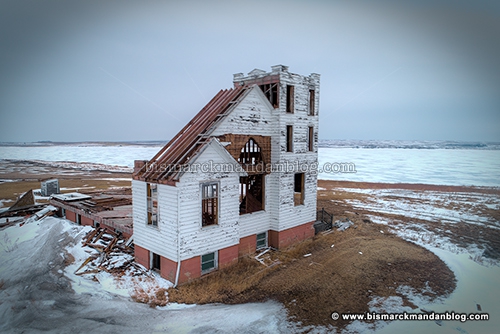 The frozen lake helped convey to me the bleak future for this old church.  It's sad to see them go.  It isn't that people quit going to church or abandoned their faith, but that so many small communities are fading away and smaller families mean fewer butts in the seats.  After a while, there aren't enough people to keep even a small church going when you're out on the prairie.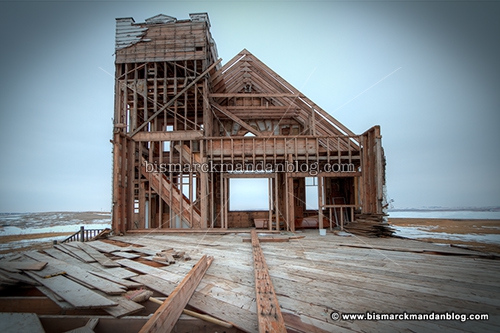 This was a soundly built church building.  I don't normally crawl around or in old buildings I find, but I had to make an exception here.  Besides, it hadn't reached this condition through deterioration.  It was still solid, just waiting to be parted out.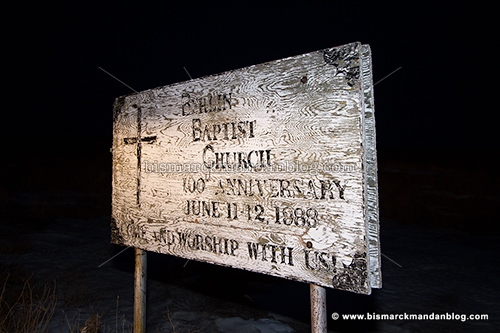 It got dark really fast while I was gaping in awe at this breathtaking find, so I didn't get a chance to take a photo of the sign until I was on my way out.  The church celebrated its 100th anniversary in 1988, meaning it was here before the Dakotas achieved statehood.
I imagine I'll have to check in on this magnificent church's remains this spring before they vanish for good.  So many of my favorite prairie places are disappearing, so I'm always glad to know that I got photos of them before they faded into history.  I didn't get to see this one before it was almost completely gone, but in its current state I think it tells a moving story.