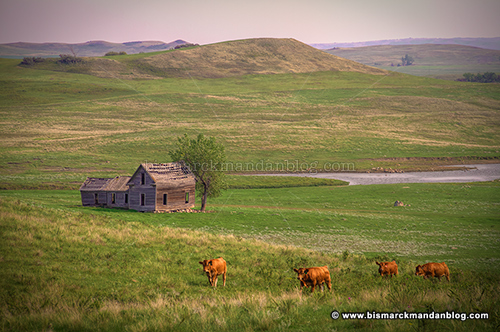 I spotted this old farmhouse while out roaming a couple years ago, and was curious about it (naturally)…but, since there were cattle on the land, I wasn't about to try getting any closer (including by air). I always planned on swinging by again to try getting a better look, but I had no idea when that might be.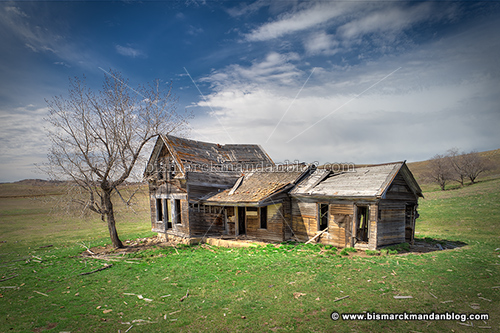 Fast forward to Spring 2019 (Did we have a spring? I may have missed it.) – I was poking around south of Bismarck-Mandan, and figured I'd try my luck despite the wind. Thankfully, I was able to fly around a little bit during a lull in the stiff breeze.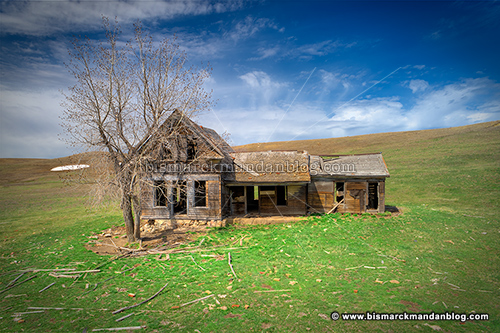 This house sits on a hill, providing a nice angle from above. It looks like at least one addition was built at some point.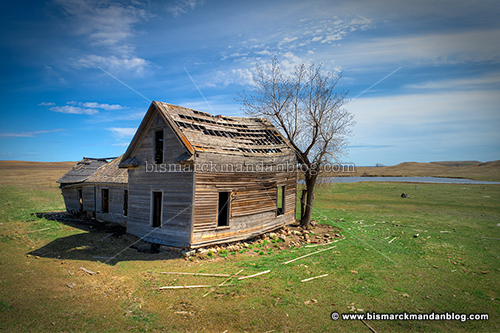 The funny thing is, due to the wide angle of the drone camera, I kinda like my original photo, shot from the road with a telephoto lens. It gets the water in there better, as well as those lovely Morton County hills.
I'm told that this house may not remain much longer, so I'm glad I was able to investigate a bit – at least enough to satisfy my curiosity. There's a growing list of sites for which I was too late, and a comparable number of sites which have disappeared since I photographed them.