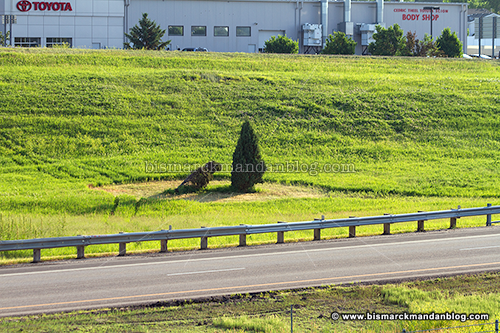 When you've got kids, you're treated to a unique perspective on a daily basis. Take, for instance, this tree near Exit 161 in northeast Bismarck. One off the pines got kinda mowed down long ago, and while it valiantly struggles to survive it has taken on a form familiar to young boys: a dinosaur.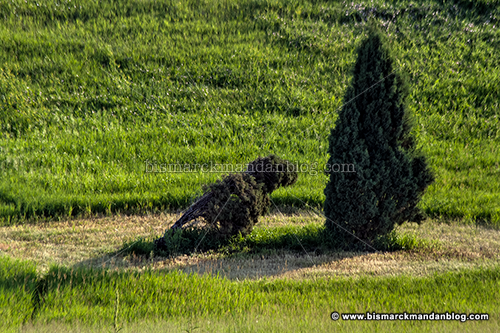 It might be a little more apparent in this photo, even with my typical nasty and intentionally ugly watermark. It looks like a Tyrannosaurus Rex, especially during certain times of day – and if you're a kid.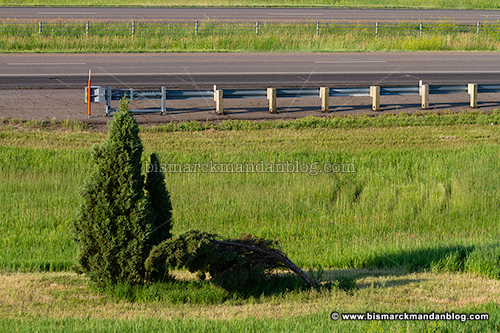 Sadly, the effect is lost on us when we are coming into town. It just doesn't look the same from the off-ramp on the north as it does from the on-ramp on the south. It's obvious from this side that the tree is losing its battle for survival, too.
So, like its namesake, Tree Rex is likely to soon become extinct. I've been meaning to snap a photo of this forever, but I'm not a fan of stopping for a photo in any place in which doing so might present a safety hazard. I was finally able to grab the shot during a time when traffic was pretty well nonexistent, even though the lighting wasn't what I wanted. Thankfully I was able to sneak it in while Tree Rex is still there.