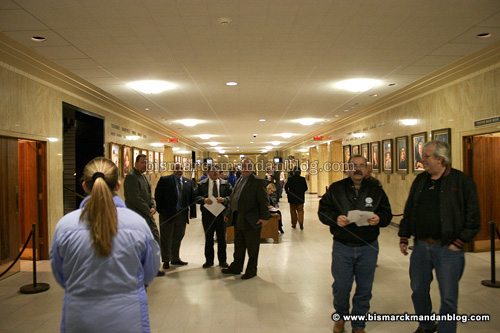 Last night the state legislature held a Citizen's Night where they took care of some of the state's business after hours. This allowed the public who are normally unable to make the regular daytime sessions to stop in and have a peek at how our elected legislators conduct the affairs of making the state's laws. While it wasn't as busy as I thought it might be, there seemed to be a pretty good crowd in the hallways.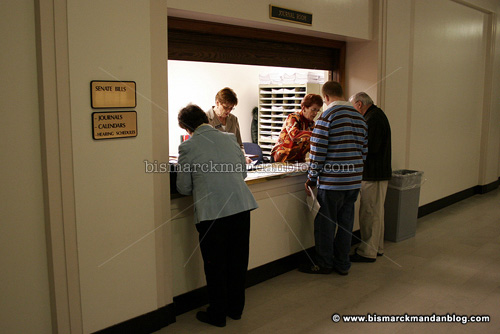 This is the journal room, where folks can stop by to get a copy of bills they're interested in. When I had an evening job and could hang out here during the session, I used to spend a lot of time at this window. It's nice to have the text of the different resolutions and bills available, so you can read it yourself. Then go lean on the legislators from your district if necessary.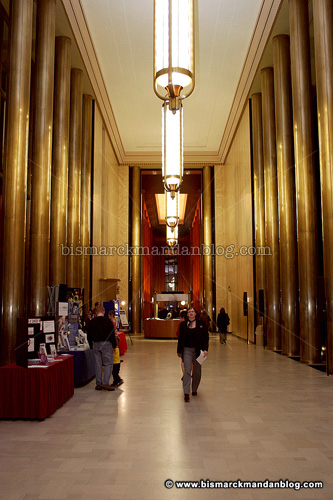 Upstairs there were a few groups with displays and people on hand to answer questions. I think these halls would have been busier, but this was during a point in the evening where everyone was jammed into meeting rooms to watch various committee hearings.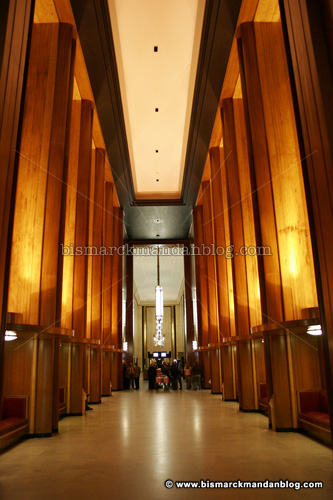 This building was built in the 1930s after the original capitol burned. I find it an aesthetically pleasing building, and it's even cooler at night. There's a lot of glass that glares into the building during the day, and I think that takes away from the style. At night a guy can see the building the way it was designed, and it's really very nice. Not bad for such a rural state, huh?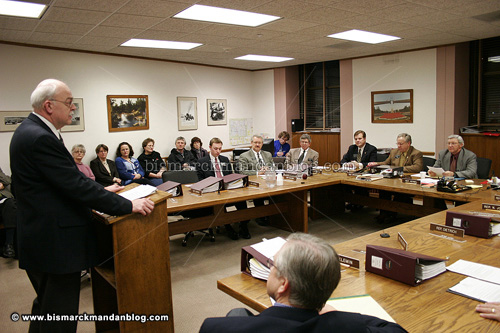 This is one of those committee hearings that I mentioned earlier. In this particular meeting, Secretary of State Al Jaeger was answering questions regarding a bill, one which proposes to restrict an elected official on a city board or commission from serving on a county board or commission at the same time. While there are four people doing just that across North Dakota, he was unaware of any conflict of interest arising from the situation…yet. So it's a precautionary bill. With larger cities expanding further into counties, there is always a chance of some friction, so I think this bill makes sense from that standpoint. By the way, did you know that only 15 cities in North Dakota boast populations in excess of 2,500 people?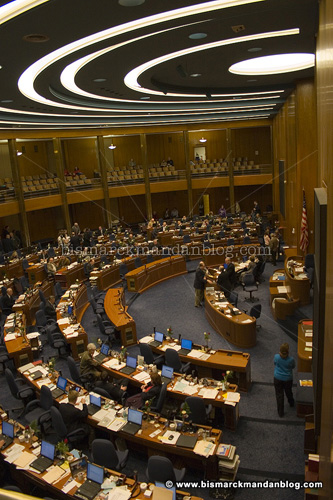 This is the House chamber. There really isn't anything going on here, because at the time I took this the session hadn't come to order yet. I had other things to do at 8pm, so I was unable to hang around to watch the session. I've seen them before, they look a lot like this!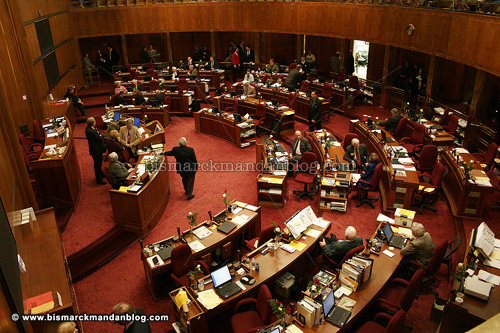 The Senate chamber. Smaller, cozier, and indicative of the inherent belief of Senators that they're somehow special among everyone else, including the House. If you look toward the upper part of the screen, you'll see Joel Heitkamp surfing moveon.org for his show's talking points. Sorry Joel, I couldn't resist!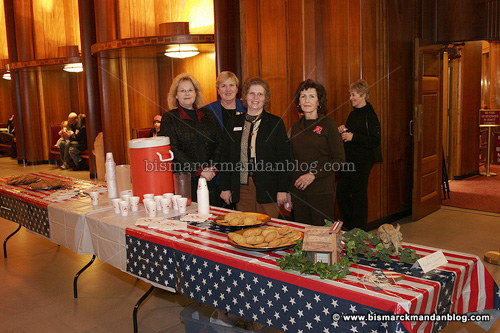 Of course one of the highlights of any such event is going to be the free cookies and lemonade! These friendly ladies served everyone with smiles. This spread was provided and served by the Republican Legislative Spouses. Wait a minute, that doesn't fit the cold-hearted, racist, greedy stereotype that I keep seeing in the media! Hm…
Thanks to the legislature for putting on this evening. I have to admit that I wish it had been more crowded. This kind of thing is quite interesting and enlightening. North Dakota's legislature only meets every two years, so I suggest finding some time during the day to go wander around and take it all in. If it seems boring, it's because you've never been there!