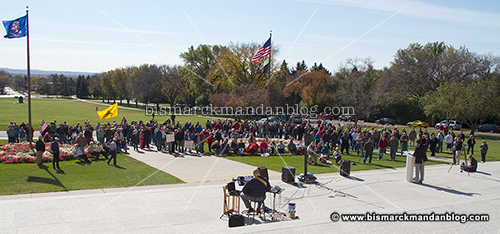 As promised, here are some of my favorite photos from last weekend's TEA Party rally, held on the steps of the North Dakota state capitol building. It was a well attended event despite the cold and wind.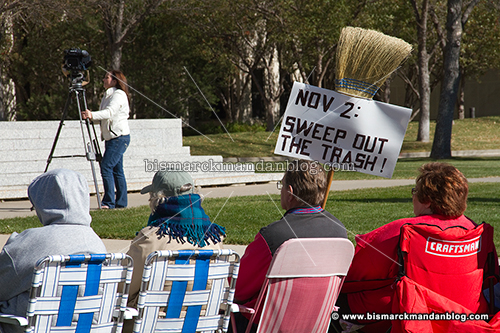 Boy, it would have been nice to have brought my own chair. Of course, since I was running around with a camera, it wasn't very practical to be dragging furniture with me. It would have been comfy to huddle under a blanket though, if I didn't have so many photos to pursue.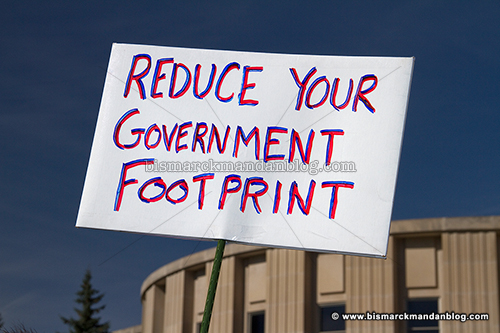 My favorite TEA Party sign of the entire day. Brevity is the soul of wit.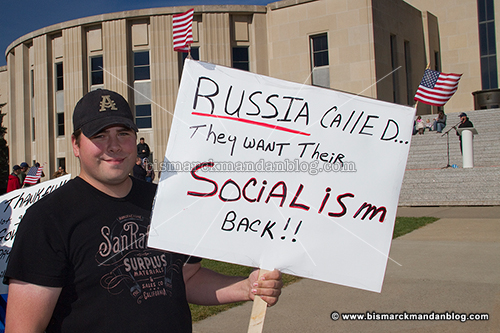 This gentleman came in a close second. Way to have fun with it!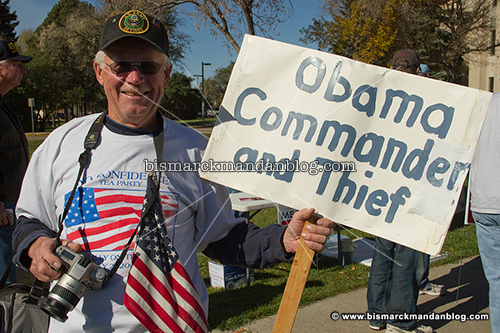 Not only did this guy sport a TEA Party shirt and funny sign, but that's also a Canon EOS camera around his neck. Good taste!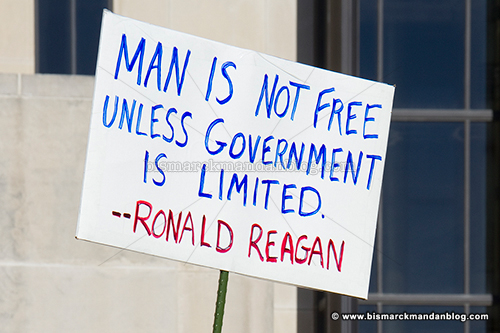 Viva la Reagan revolucion! President Reagan was MY President. I was in sixth grade when he was shot. I didn't reach voting age during his terms of office so I never got the chance to vote for him, but I would have in a heartbeat if I'd been able to do so.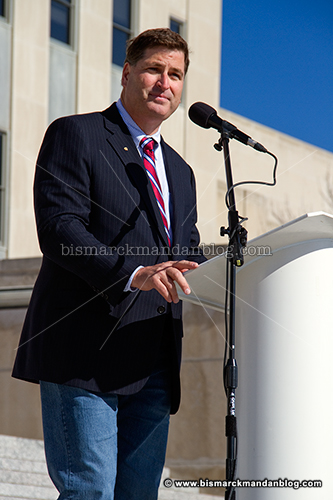 If you're ever looking for a guy to explain currencies, commodities, and world markets…this is your guy: Eugene Graner of Heartland Investor Services. He can make the complex understandable. If you want a good nuts-n-bolts explanation of how disastrous our government's fiscal policies are, he can present it to you in a way that's easy for a non-economist to follow…and with a strong dose of common sense.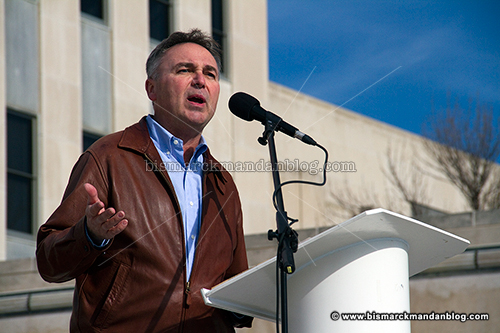 One of my favorite "political guys" is Gary Emineth, the final speaker of the day. He's the one who opened up the North Dakota Republican Party to citizen activists like myself and was steadfast in making people realize that Republicans and grass roots conservatives like me who are leary of simple party affiliation are fighting for the same causes. Things like the GOP Chairman's Luncheon and the Take Back Washington Rally are ideas that came from Gary. He had a fantastic speech too, but more on that in a little bit.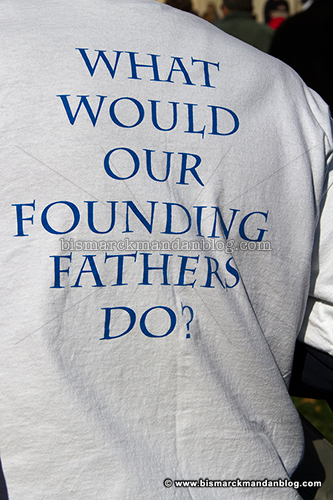 Indeed. This is a shirt from a 2009 rally, actually, but I just like the design better than the ones they had this year. It's a good question to ask: what WOULD our founding fathers do?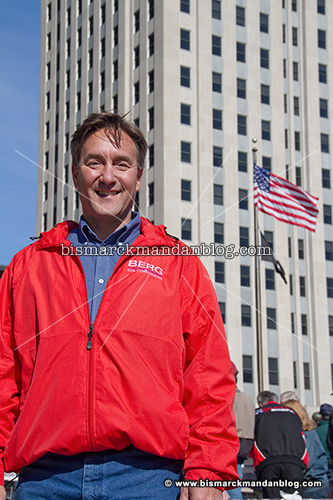 Rick Berg, our next United States Congressman, was present. He had a table where people could meet him, ask him questions, and sign up to volunteer. Guess what? Rick's political opponent in the upcoming race was conspicuously absent. Which one of them is in touch with North Dakotans? Hint: he's pictured above.
Mr. Berg didn't take to the microphone. He didn't use this as a campaign stop or rally. He didn't attempt to make this event about him or his campaign. In fact, his name didn't even appear on the flier. He simply came to the event with some of his campaign helpers and a little table, and he talked to people and was available to listen. I got to meet him and let him know I'm doing my part with those silly little YouTube videos and stuff.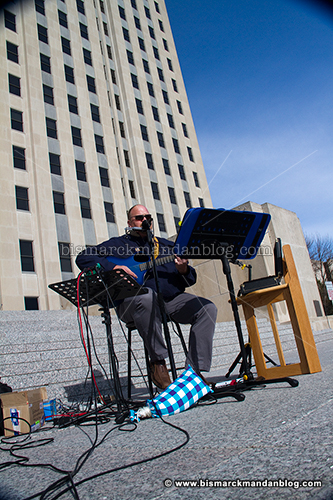 Music by Gordon Court. He has played at other events as well and has some catchy politically themed songs as well as Christian and contemporary music.
Here's a succinct sample of Gary Emineth's speech toward the end of the event. I often forget that my new Canon 7D can record video, but this time I remembered. I thought you might like one of the more inspirational bits of his speech, and I wish I'd remembered about the video feature when Gene Graner was speaking! You need to hear these two guys every chance you get.
Keep up the enthusiasm, my fellow North Dakotans! Let's set things right in November!