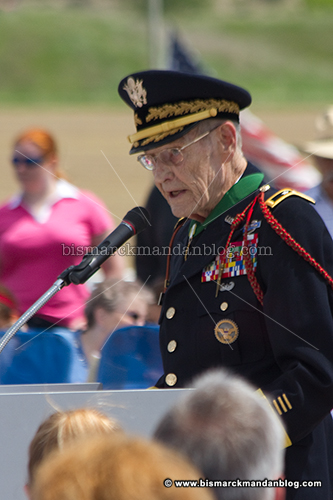 Let's not forget that Memorial Day is about one thing: honoring fallen heroes who died defending our freedom. I typically attend the ceremony held for such purpose at the Veterans' Memorial Cemetery each year, the most memorable of which was in 2010. It was during that ceremony that I witnessed a stirring address by C. Emerson Murry, former Major General of the ND National Guard. He was the keynote speaker of the event, and a very memorable one at that.
The words that struck me the most from his keynote address are best paraphrased as follows: "To be born free is an accident. To live free is a responsibility. To die free is an absolute obligation." That made me set my camera in the grass and hastily type it into my phone so I wouldn't forget it. Maj Gen Murry fulfilled that obligation, and it's due to such men and women of our armed forces that we enjoy the freedoms we take for granted.
The National Guard provided me with the text of his remarks in PDF format from an issue of the Guardian magazine, and I'm pleased to be able to provide you a link to that PDF: (Click Here)
It was the last chance I had to hear him speak; Maj Gen Murry passed away in September of that year. You ought to take the time to read about the life of this remarkable man by clicking here.