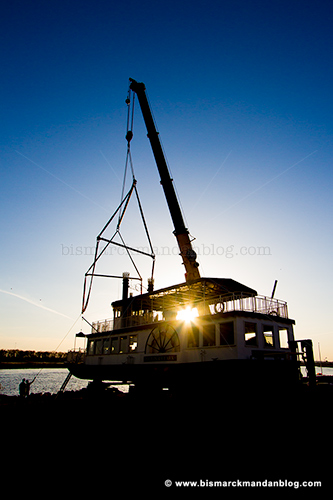 As part of another First Day of the Rest of My Life, it was a blessing to have a date night with my sweetie as our boys went out with their grandma.  After a satisfying Italian dinner we went for a little cruise and saw that the riverboat was about to be hoisted into the Big Muddy.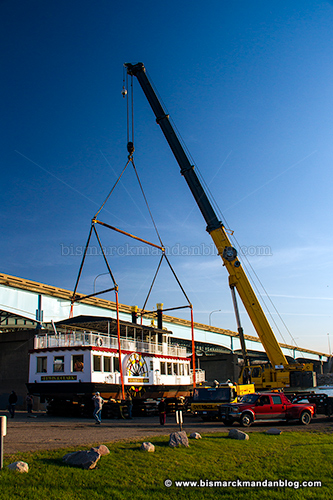 The gigantic crane from CJ (I like those initials, obviously) was already in place, and the conditions appeared to be perfect.  It suddenly occurred to me that, even though I've been unable to wield it in a while, I had my camera in the truck.  Since my wife is among the most gracious of women, she agreed that it'd be fun if we stopped to watch and take a few photos.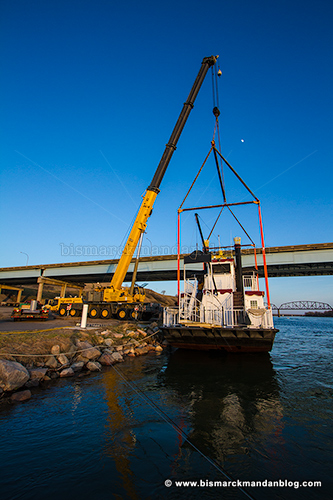 Nothing happens quickly with a crane; when heavy things start moving quickly, damage occurs.  After all, mass x velocity = FORCE.  That's the last thing one needs when balancing a load high above the ground.  Slowly but surely the crew eased the big ol' boat into the river and held it in place until the pilot could get all systems up and running and power it out into the channel.
You may notice a gap in the sequence of my photos.  That's because, as a video guy, I felt the urge to actually shoot some video clips of the event.  A time lapse would have been nice, but the dock's undulating movement from passing watercraft made that more hassle than I'd prefer.  So here are a few video clips I slapped together this morning:
You can view it in high definition on YouTube.  I also saw something else from the dock that was pretty cool, but I'll be posting that later.