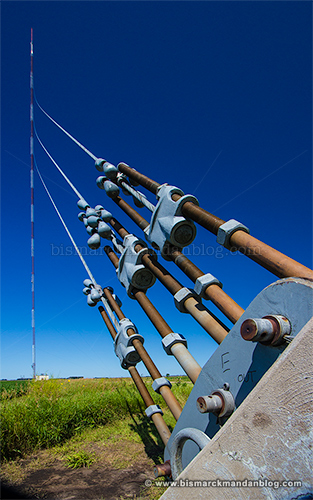 On the way home from Fargo last weekend I decided to show my boys the fourth tallest man-made object in the world: KVLY's tower near Blanchard.  It was weird stopping by there as a former employee of NBC in North Dakota, but I still take pride in this structure.  It's a biggun, as they say.  The massive structure above is just one set of guy wires and anchor holding it in place.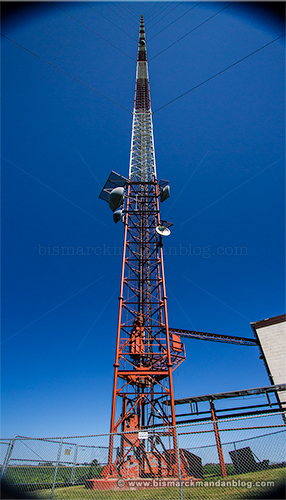 This tower is enormous, and for quite some time was the tallest man-made object in the world.  It has since been dethroned, but aside from the Burj Khalifa its competition edges it out by fewer than ten feet.  There's phone booth sized elevator that goes up the center of this tower…scary.  Rumor has it that the former chief engineer would ride up on top of the elevator so that  second person could ride inside to go up the tower.  I never asked him.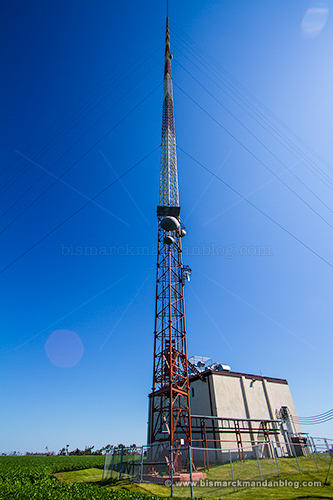 I haven't been inside this building for a while.  Structures near towers like this have heavily reinforced roofs, as enormous chunks of ice come crashing down over the winter and spring months.  In fact, I'm pretty sure one has to make a mad dash for the building if going out there in the winter!  Facilities built early enough, like this one, have living quarters inside…a throwback to the days when an engineer actually remained on site during all hours of transmitter operation.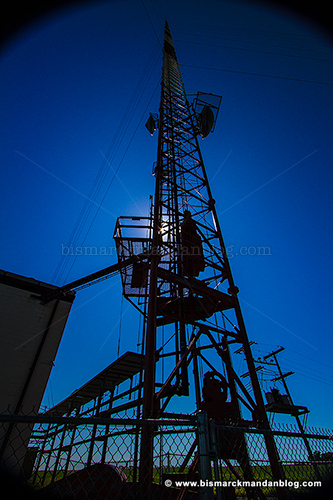 Silhouette.  Can you imagine how long a shadow this tower casts on a winter day?  Its counterpart, by the way, is nearby… a short little 2,060 footer.  That tower, belonging to fellow Valley News Live station KXJB, fell twice: once after being struck by a helicopter, and a second time during the storms of 1997.
I'm so accustomed to dropping by this tower when in the neighborhood, hoping the engineers might be there servicing the transmitter, that I didn't even stop to check if they've posted the access road.  If you go out this way, check that out.  I'm just used to the old days of being able to approach, and it's been a long time since I've been "in the neighborhood".  But something this big has to be seen.  If you want more information, Wikipedia is probably your best bet.  I don't think the Valley News Live page has the same tower information page that the old KVLY site did.