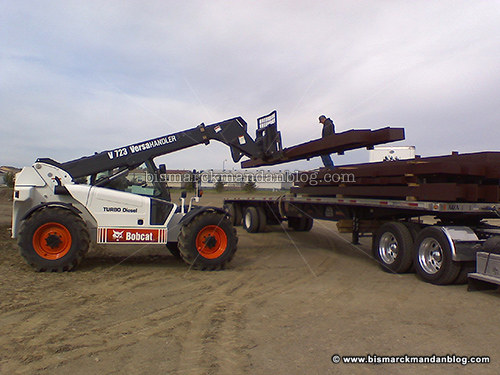 That's the title of
this article
I found in my BusinessWeek magazine this afternoon, so I dug up the link to the online version for you. To summarize, Doosan (the company which bought Bobcat) is in some dire straits and needs to cut costs. That's an obvious fact to many Bismarck-Mandan families, but this article explains a little bit about why those cuts are occurring.
I thought it was interesting because of a few key bits of information I was able to pick out of the article. One is that Doosan was one of multiple bidders for Bobcat…sure, they closed the Bismarck plant, but a different bidder could have decided to abandon North Dakota entirely. Another is that the financing deal on this purchase requires Doosan to accelerate their loan payments in the event that Bobcat's cashflow declines, which it clearly has.
This also reminds me of this article, which describes the moving of some Bobcat operations to the old iMation plant in Wahpeton. It looks like it'll be some of the hydraulic and cylinder shop jobs. They'll be paying $416,000 a year in rent. I wonder how that compares with the cost of owning facilities in Bismarck, and paying the property taxes thereon? A "nonprofit development corporation" owns the Wahpeton facility, which probably means that the taxpayers are eating it on the place in the name of "economic development." Don't get me started on that boondoggle; That vast empty Northern Plains Commerce Center southeast of town cost $4.7 million taxpayer dollars, with Bobcat its only prominent tenant. I haven't heard of them packing up their operations there, but it raises the question: might they abandon the NPCC now, too?
One thing I didn't hear mentioned in any of this articles: labor unions. Someone told me that the Litchfield, MN plant is non-union. I've also been told that the Wahpeton facility will be non-union. I don't think it's a stretch to connect those dots, in light of another anecdote I heard from a union meeting in Bismarck a while back. As the story goes, someone stood up and mentioned that he makes more at Bobcat than his wife at a professional job with a college degree, and dissatisfied Bobcat employees might want to consider that. While plenty of good things have come from workers getting together, I think the modern labor union is sorely off track, disregarding the best interest of their members, and probably played a significant role in hundreds of Bismarck jobs moved only two to three hours to the east.
There are probably more interesting observations and deductions you can make about the economy, the Doosan/Bobcat deal, the economic development canard, and labor unions…I'll leave that up to you. I just wanted to share the observations I got when I flipped open the October 26th issue of BusinessWeek this afternoon.