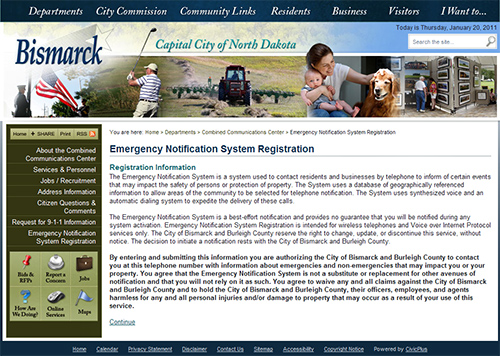 If you're like me or many of my friends, you cancelled your landline long ago (years, in my case) in favor of cellular. There are some drawbacks to going cellular-only, though, mostly in emergency situations. This should be of keen interest to all "cellular-only" residents of Bismarck.
A coworker emailed me the link to Bismarck's "Wireless Notification" form yesterday. This allows use of the "reverse-911" system, used to notify residents of a certain geographic area, to reach people who don't have a land line. It can also be useful if you'd like to receive notifications while away from home.
This could be extremely useful in cases such as the standoff in a south Bismarck trailer park earlier this month. With spring flooding around the corner, this can also be a critical tool in getting timely information out to people in an affected area.

You can check out the form by clicking here. It's one tool in the arsenal, not a failsafe, but it's certainly a good way to help stay informed for those times when you need reliable information in a timely manner.