A friend of mine had posted a picture of an old abandoned car recently that caught my eye not just because of the car body, but because of the unique landscape behind it.  He'd been roaming and had no specific idea where he took the photo, so I thought I'd go hunting.  I knew which county it was in and a general orientation, so I did some research on Google Earth and headed out.  I caught a few surprises along the way, including some vehicles – which I'll focus on here (pun intended).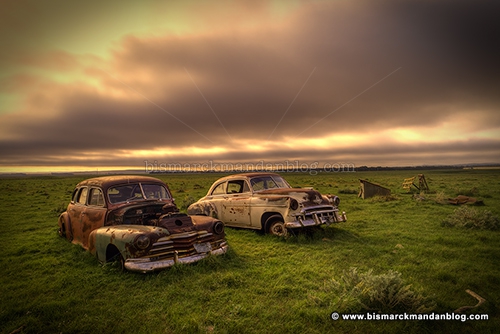 This is the first shot of the morning.  We had layered fog and some wild clouds, too…so the rising sun made for a pretty spectacular morning.  This is actually a drone photo, as I tend to use UAS cameras for shots even as low as 18 inches if necessary.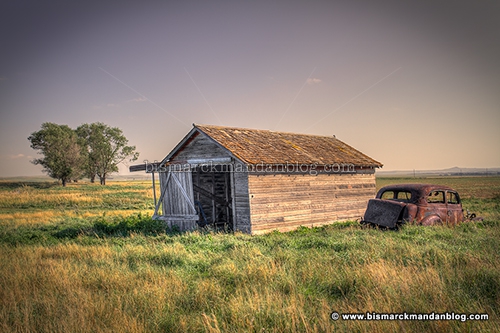 Next was this old guy, sitting next to a garage on a parcel of land I have wanted to photograph for two years.  I got the owner's contact information in March of 2016 but was reluctant to call for permission last year because of all the NODAPL jackholes roaming Morton County last year and the increased fire danger this year.  Today was a beautiful day, I called and got permission, and the rest is history.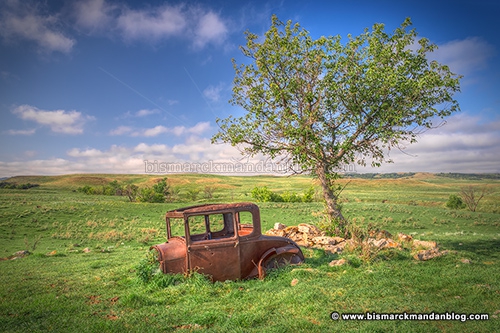 This little guy is on that same property.  I took a few different angles, but this is the one that worked out the best.  Morton County is so beautiful that I have to make sure to show some of those rolling hills in the background.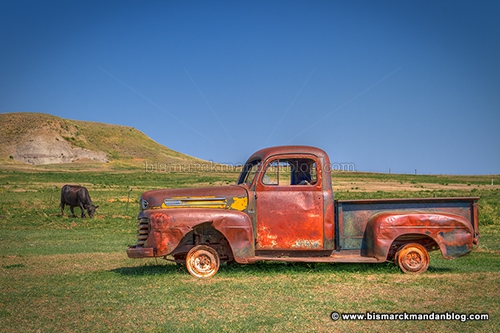 This truck isn't going anywhere, at least until someone spoons some tires onto those rims.  It was fenced in with a bunch of cows anyway, and they seemed completely uninterested in the truck or me.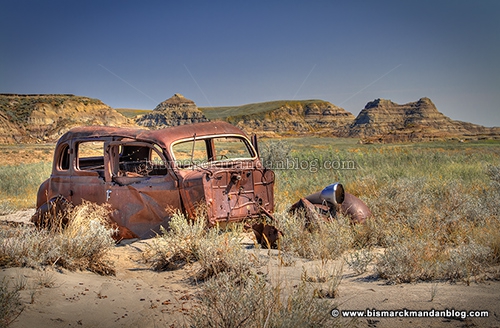 This is the vehicle I wanted to find.  See why the background caught my eye?  Very reminiscent of the Badlands.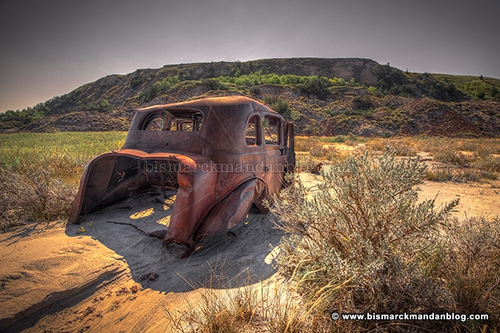 One more, although you can imagine I shot tons of different angles.  The ground had begun swalowing up this car's frame and floorboards. With such amazing terrain on all sides it was a regular smorgasbord of photo opportunities.
I had a blast working my way around south central Best Dakota, then bolted home for tacos.  What a fantastic way to spend my Saturday!