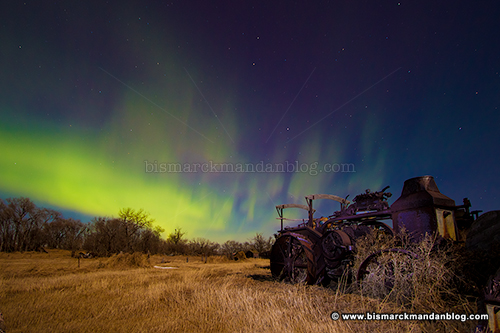 With permission, I was able to roam an amazing old farmstead for the last huge solar blast, shooting time lapses and stills until nearly four in the morning. I didn't even get to explore every corner of the yard, but I did get an amazing variety of shots…even though I've never seen the place in the daylight to scout it out! For instance, the shot above shows a stoic Rumely Oil Pull kerosene-burning tractor…facing south, it appears oblivious to the amazing lightshow taking place behind it.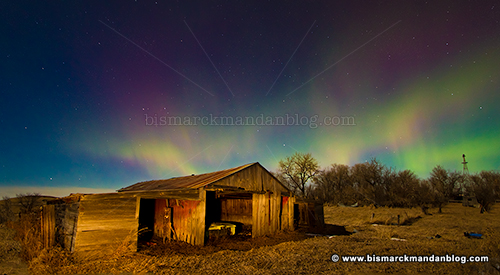 This rustic garage is home to a few noteworthy artifacts, the most obvious being the 1971-1973 Mercury Cougar peeking around the corner at me. Once again, with the rainbow colored sheets of light shooting across the northern sky, this is a bad time to be stuck on blocks inside the garage.
I'll continue to roll out Northern Lights photos from time to time, but hopefully I'll be able to acquire even more in the near future! We're approaching the peak of the solar maximum, so I expect this to be a very interesting summer. With any luck we'll have plenty of opportunities for photos like these!