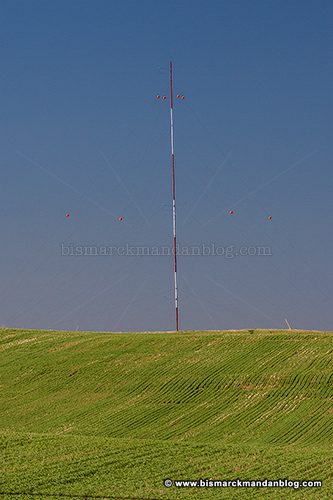 I was roaming some of my favorite Morton County back roads, searching for blue flax fields and whatever else I might find, when I noticed this.  Actually, I noticed three of them…all in a line, spaced evenly about a mile and a half apart.  That was weird…short little guy-wired towers springing up like that.  So what's the deal?
I asked around a broadcast engineering group I belong to, and they gave me the scoop: they're temporary anemometers.  After I found that out, I was able to verify it on my next trip past that area when I actually got close enough for this shot: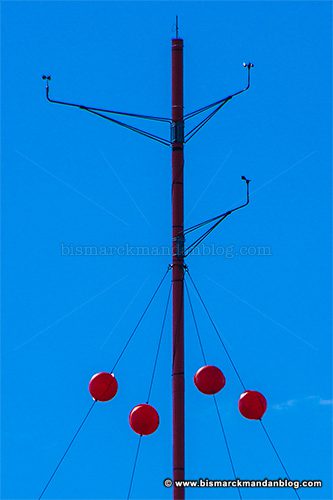 As you can see, there are multiple anemometers on this tower.  Well, there's only one reason why you'd want to measure wind in an area like that.  Yes, you guessed it: more stupid wind turbines, among the most expensive types of power to produce.
These subsidy grabbing, bird killing eyesores are the bane of anyone who loves photographing North Dakota.  Sadly, they're encroaching on some of the more scenic areas surrounding Bismarck-Mandan.  As I type this, work is in progress on a wind farm south of Hebron as well.  Sad.
If you want to get any scenic photos around Morton County, especially at sunset, you'd better do it before those ugly structures ruin the skyline.