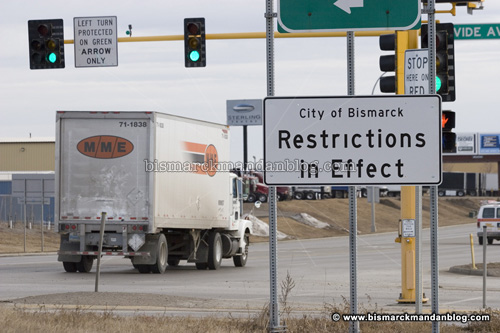 The City of Bismarck has put out a notice that
load restrictions on the city's roads will start next week.
It gives me the perfect opportunity for a little good-natured ribbing over the "Restrictions in Effect" signs traditionally seen around Bismarck this time of year. Restrictions of what nature, you ask? If your only source of information was these signs, I suppose it's anyone's guess.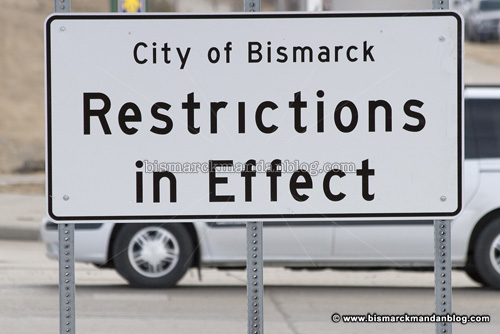 I first saw these signs go up a few years ago (and every Spring since) and thought they were pretty funny. It's because of the load restrictions I mentioned, but the signs are omit that detail. It's only after someone figured out what was missing (maybe they read this blog) and wedged a little "Load" in there that the signs made sense: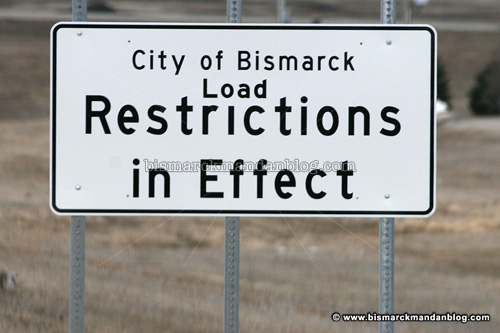 This is how the corrected signs look. I am still occasionally surprised to find an unmodified one posted.
As you can see in this previous post,
I was almost second-guessing whether I'd even seen the signs without the word "Load" inserted. If there are any of the original vague signs remaining, someone's going to have to dig through a drawer for another "Load" sticker!
[ add comment ]
( 4 views ) |
permalink
|
Click a dot to rate this entry:





( 3 / 131 )
---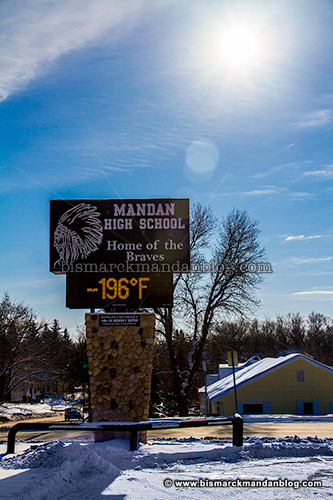 I noticed that it was particularly chilly as I drove by Mandan High today. One glance at the sign indicated that we may have broken a December record!
Or maybe it's time to get something calibrated.
[ 1 comment ]
( 20 views ) |
permalink
|
Click a dot to rate this entry:





( 2.9 / 149 )
---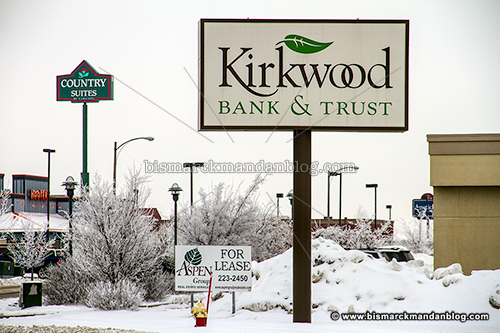 Logo design follows interesting trends. A while back the "swoosh" was the predominant feature of way too many logos, and another overused feature was the leaf. Case in point: the photo above.
There are three leaf logos in this photo, but there's also a leaf on the Applebee's sign obscured in the background...and Kirkwood Bank was just to my right as I took this photo. That's five leaves within a one block radius, a new record in my book.
[ add comment ]
( 1 view ) |
permalink
|
Click a dot to rate this entry:





( 3.1 / 133 )
---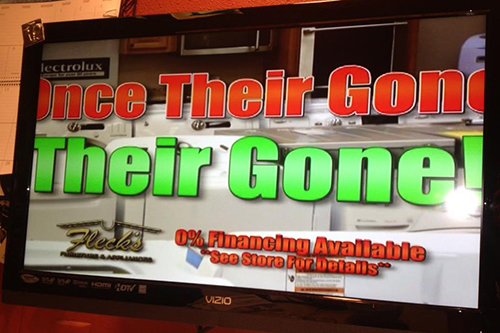 When it comes to local television commercial production, you often get what you pay for. I say this because often the production is simply a giveaway in order to secure the airtime buy. Purchase a rotation from station X, and they'll produce your ad for nothing. Perhaps that's what happened here (thanks to my friend Mike for the catch and the photo). In any case, I'd be pretty ticked if I was Fleck's Furniture and my television ad made it look like I had a limited grasp of the English language. In case you're wondering, I don't know which TV station aired this ad.
One reason posting has been light this week is that I've been pretty tied up with a 3D animation job that requires what little spare time I've had available. Modeling, lighting, and animating are fun challenges but very time consuming. Even now, at 2:44am, I'm typing this as I watch the animation build frame by frame. Good thing I took a combat nap earlier in the evening.
One more thought on the subject of grammar: when consoling a grammar freak, say "There, their, they're..."
[ add comment ]
( 3 views ) |
permalink
|
Click a dot to rate this entry:





( 3 / 104 )
---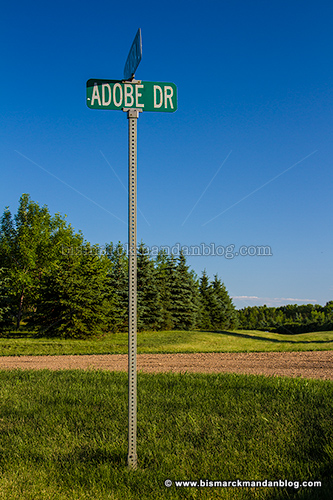 Poking around in northwest Bismarck I came upon this sign for Adobe Drive. Of course I had to stop and grab a photo; I'm a huge Adobe fan since I use Creative Suite products at home and at work for video, audio, animation, graphics...the works.
That got me thinking...if I was a developer and wanted to plat out a neighborhood, it'd be great to put together Adobe CS product names like Illustrator Avenue, Premiere Lane...or something double geeky like Flash Drive!
Of course, there are naming conventions for streets in Bismarck that would disallow that, but it's still fun to think about.
[ 1 comment ]
( 51 views ) |
permalink
|
Click a dot to rate this entry:





( 3.1 / 90 )
---
| 1 | 2 | 3 | 4 | 5 | 6 | 7 | 8 | 9 | 10 |
Next>
Last>>