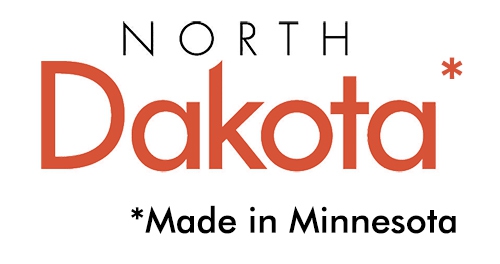 I posted earlier about the new North Dakota wordmark done in three varieties of the Futura font, scrambled around and with a round part of the k's tip removed. It hasn't been well received online. Many have asked where it originated. Apparently, it came from Minnesota.
According to KNOX radio, a Minnesota design firm was hired to come up with the new branding. If I'm reading this properly, not all of the $10,000 spent went to the wordmark- the way I read this article, I infer that it was part of an overall campaign.  That seems kind of low, so maybe this was a $10,000 piece of the larger rebranding effort.
Again, I agree with Julie at the Lone Prairie Blog that North Dakota should be portrayed as "Legendary", not its visitors. The experience of coming to our state should be the stuff of legend. This new brand is misguided, and the face of it (see above) is grotesque.
Not only is this logo controversial, but add to the mix that no North Dakota designer was chosen to help with the brand. That isn't going to go over well.